OutdoorsHabit.com is a participant in the Amazon Services LLC Associates Program, an affiliate advertising program designed to provide a means for sites to earn advertising fees by advertising and linking to Amazon.com<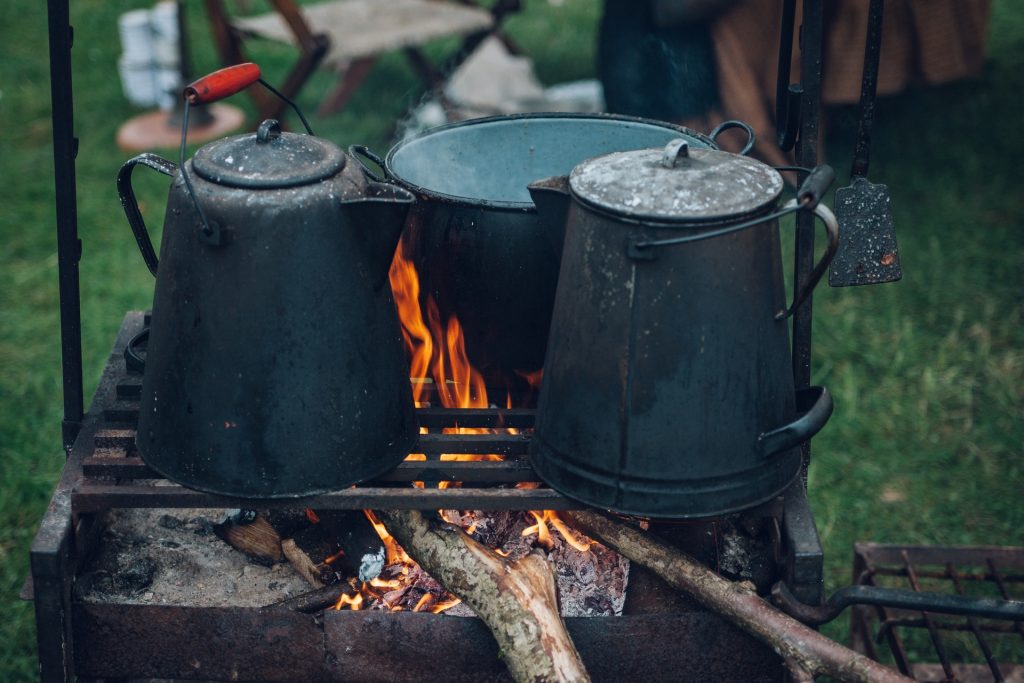 This Stansport two burner backpacking stove is one of the leading stoves in this price range. It features twenty thousand BTUs that are evenly spread across a couple of burners, and it has a reputation for boiling water very quickly. It can also masterfully simmer, allowing you to effortlessly cook more complex meals.
This is one of Stansport's leading models and it's equipped with a heavy-gauge steel frame and a baked-on enamel finish for improved durability. The lid can easily detach so you can use a wider range of cookware including griddles, and oversized pots.
It comes with a steel grate that's removable, for easy clean up and maintenance.
This model runs on small sixteen-ounce propane canisters.
Overview and Features
This stove is equipped with side and back panels that efficiently block gusts of wind, allowing you to continue cooking with consistency, whether you're at a high elevation level or at sea level. The stove also offers plenty of cooking space, so you can use full-size pans and pots.
The stove's grate design will also allow you to use smaller cooking accessories. The grate is incredibly sturdy and can be easily lifted off for fast cleaning.
A Cooking Beast
Equipped with two ten thousand BTU burners, this stove can both simmer with ease and fry up your favorite main dishes, quickly and efficiently. It's a great choice for backpackers who prefer cooking more complex meals.
In terms of boil time, this model is a top performer. It can easily boil a quart of water in just a few minutes, unlike other models in this price range.
You'll be impressed with the stove's ability to simmer with ease. You won't have to worry about burning your food because it's easy to turn down the burners without the fear of the flame going out. The burner's design and the windscreens make up a stove that's impervious to windy conditions. And the result? You can enjoy making slow-cooked dishes for your backpacking crew.
For a compact stove, this two burner model is very roomy. Measuring in at nineteen inches, it's a few inches wider than the average two-burner in this price range, which will allow you to squeeze in an extra pan or two. While it can't compete with large free-standing backpacking stoves, it definitely holds its own against other models in this price range.
In order to set up this stove, you won't need to use any complicated instructions or have any experience with camp stove cooking. Simply open the top of the stove, attach the propane adapter, and secure the windscreens and you're good to go.
The piezo ignitor on the stove is also worth a mention. Instead of a push button, it features a twist ignitor, but there are both advantages and disadvantages to this design. On the plus side, the twist action means it won't slide the stove backward if it's set on a slick surface, which is a common problem with most push-button models. But the downside to this design is that it can be hard for some users to physically turn.
Just like setting up this stove, maintenance is also a breeze, and about as straightforward as it gets. To access the drip tray and burners for a thorough cleaning, the cooking grate easily lifts up and out.
Wind Resistance Quality
In terms of wind resistance, this model is definitely rated as above average. The burner design, high BTUs, and windscreens work to provide a solid cooking experience. In high wind conditions, this stove will hardly be fazed. It may take twenty or thirty seconds longer to get a good boil going, but other than that, you'll still enjoy well-cooked foods and faster boiling times.
Portability
If you're worried about the size of this camp stove, you shouldn't be. When it's packed down it measures in at just twenty-three by eleven by four inches, which is a nice compact size. In fact, it's considerably more streamlined than higher priced backpacking stoves. With this type of increased portability, you won't have to worry about a loss of performance. You'll still be able to use a couple of skillets or large pots with no problems. On all fronts, this stove is very impressive.
This model weighs in at seven pounds, which is decent for a stove of this size, however, if your goal is to keep your pack lighter, then this can be a real deal breaker.
Best Used For
For the outdoor enthusiast that loves to cook for large groups, this stove is a perfect choice. Who says you have to live on freeze-dried dishes when you're exploring the backcountry?
This model by Stansport is the perfect buy for RV and car camping. It works best when it's used on a table, but it also cooks well on the ground. It can easily cook for one to six people and can maintain its performance in both changes in altitude and wind conditions.
Pros
Easy to use
Twist turn ignition
High performance in windy conditions
Easy temperature control
Compact design
Low maintenance
Consistent high powered cooking performance.
Can cook large meals for up to six people.
Cons
Some users felt that the twist ignitor was difficult to use.
Can be too heavy to use for long backpacking trips.
If you're searching for a lightweight backpacking stove, take a look at the top-rated Coleman Triton 2 Burner Propane Stove.
Stansport 2 Burner Propane Camp Stove Conclusion and Rating
Outdoors Habit.com Product Rating: (4.5/5)
For the price, this backpacking stove is a total steal. It's definitely a top performer and easily beats out other stoves in this price range. While it's true that you can spend less on a backpacking stove, you'll end up sacrificing BTUs, and performance. You'll love the type of power this stove can deliver and all without compromising the stove's ability to slowly cook foods to perfection.
So, take our advice and check out one of the best backpacking stoves on the market. We gave it a rating of four and a half out of five stars.
Check Price
Summary
Reviewer
Review Date
Reviewed Item
Stansport 2 Burner Propane Camp Stove
Author Rating