OutdoorsHabit.com is a participant in the Amazon Services LLC Associates Program, an affiliate advertising program designed to provide a means for sites to earn advertising fees by advertising and linking to Amazon.com<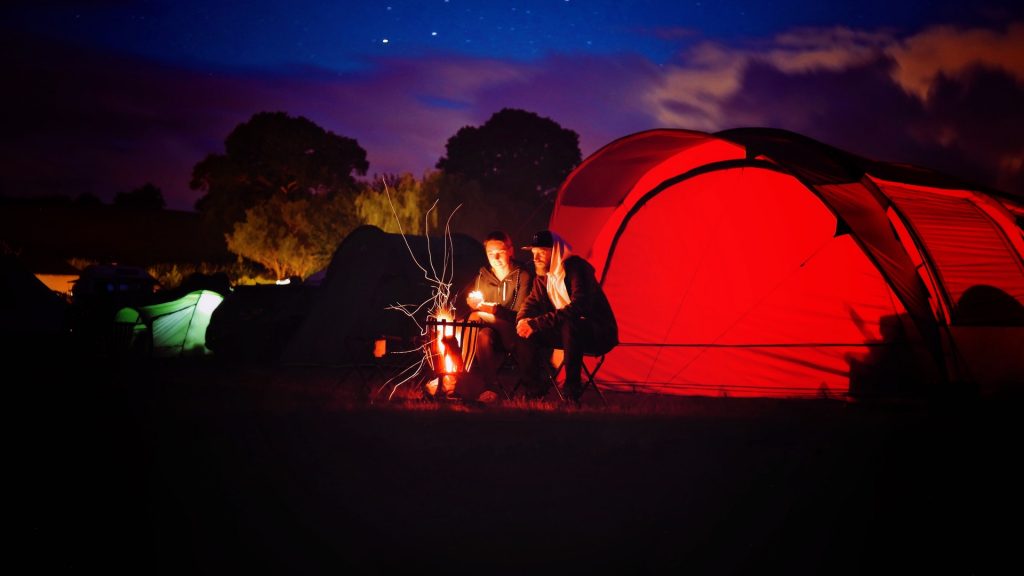 When it comes to feeding a large group of backpackers, nothing can quite compare to the Camp Chef Pro 90x in terms of power.
Offering an impressive three burner setup at thirty thousand BTUs, and a couple of prep trays that fold out, this camp stove is all about power and size. This stove is about as powerful as a standard gas grill, but it's also highly portable and incredibly easy to assemble. Overall, we found this camp stove to be even better than models produced by Camp Chef in the past, with more of a focus on portability, ease of use, and power.
Overview and Features
Out of any stove we tested, hands down, this model offers the best flame power. And the result? More efficient cooking, done faster, with extra benefits such as the ability to warm bread or roast peppers. If you plan on cooking for a large group of seven or more backpackers for most of your meals, then this is a stove that should definitely be added to your wish list.
The stove's extra burner combined with the added heat works wonders when it comes to speeding up the cooking process. The larger than average cooking space is also a better choice for group cooking because you'll be able to use large pans or pots for each burner, easily.
Ultimate Cooking Space
With the average two-burner backpacking stove, you'll only be able to fit one twelve-inch pan, which will take up most of the cooking surface. With this stove, you'll be able to easily use a few twelve-inch pots or pans at the same time. Keep in mind that this stove must be used with a large five-gallon propane tank, instead of the smaller, easier to transport propane canisters.
Portability Solutions
This free-standing stove is more similar to a traditional grill than an average backpacking stove. But it's the best solution for large groups of backpackers. That being said, the stove is heavy and can take up a lot of space. Many backpackers have solved this issue by placing the stove in a utility cart to easily transport it from campsite to campsite on a long hiking trip.
Cooking for a Group
When it comes to the best backpacking stove for group cooking, this model easily takes the number one spot. Not only does it have the most burners, which means it can cook more food at once, but it also offers excellent flame power and the most cooking space. The top of the stove is basically a giant metal grate, making it easier to use pans of any size to cook in. Remember, when you're cooking for more people, a bigger stove is always better.
Boil Time
When it comes to boil time, it's no surprise that this stove excels in this area as well. When you want to boil water, just crank up the heat on one of the five-inch burners, which are designed to deliver more flame to a larger surface area. However, the downside is that these burners are not designed for use with smaller pots and pans. Instead, you must boil up a large pot of water or you could risk singing the exterior of a small kettle or pot.
Simmering Ability
In terms of simmering ability, there are no complaints. It's simple and easy to reduce the flame to simmer, without putting out the flame. This is due to the unique knob design. When the knob is set to low it will catch, preventing you from completing turning off the stove.
Set Up and Maintenance
Despite its larger than average size, this model is very easy to set up. Assembly time will take about five minutes.
In terms of maintenance, the cleaning process isn't quite as simple as it is with smaller camp stoves. But while it's more time-consuming, it's a fairly easy task. Just remove the grate, empty the large drip pan, wipe down all of the cooking surfaces including the two prep trays and you're done.
Windy Conditions
With such a large cooking surface you can expect the stove to be more vulnerable to windy conditions. Once the wind picks up you'll notice that the flame doesn't cook as evenly.
Pros
Equipped with three burners
Offering thirty thousand BTUs
Faster boil times
Cooking temperatures can easily be controlled
Perfect for group cooking
Features two large foldable prep areas for extra cooking space.
Easy to clean
Cons
This stove weighs in at fifty-nine pounds, so you'll need to purchase a utility cart if you plan to use it on your next backpacking trip.
The stove runs on large five-pound propane tanks.
Does not perform well in windy conditions.
Longer setup time
If portability is a priority, then you may want to look at a backpacking stove that's more trail friendly, such as the Stansport 2 Burner Propane Camp Stove.
Camp Chef Pro 90x Stove Conclusion and Rating
Outdoors Habit.com Product Rating: (5/5)
The Pro 90x stove by Camp Chef is perfect for large groups. The stove's multiple compact burners allow you to cook a large meal in a fraction of the time compared to using a multiple small camp stove setup. Additionally, the extra prep space will allow you to prepare a more complex meal, quickly and efficiently.
This stove really shines when you're cooking for six or more people. This free-standing stove is well-designed with generous counter space and a large cook-top. You'll love its powerful, huge burners and the top of the line auto ignition system.
If your regular camping trip consists of a large group of family or friends, then this stove is up to the task. But if backpacking with a large group isn't your thing, stick to a stove that's smaller and simpler.
Overall, for what it is, which is a camping stove designed to handle cooking for large groups, this stove excels in most areas. We gave this model a rating of five out of five stars which makes it the best backpacking stove on our site.
Check Price
Summary
Reviewer
Review Date
Reviewed Item
Author Rating