OutdoorsHabit.com is a participant in the Amazon Services LLC Associates Program, an affiliate advertising program designed to provide a means for sites to earn advertising fees by advertising and linking to Amazon.com<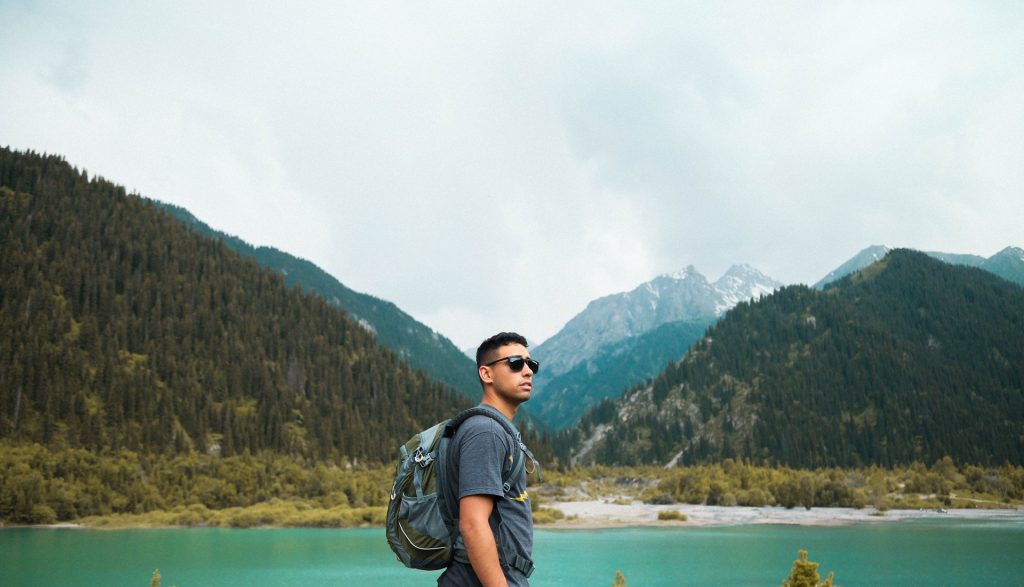 Patagonia has been a popular brand for years and they're known for their innovative designs, feature-packed bags, and overall versatility. We were glad to see that the Black Hole, which is one of their leading models, is no disappointment, especially when it comes to storage options, weather protection, and durability.
Overview and Features
For some, this daypack may be a little on the pricey side, but once you take a look at all the features it has to offer, including a protective laptop sleeve, and plenty of storage compartments, you'll quickly realize that this bag is worth every penny.
The Patagonia Black Hole daypack is designed to fulfill all your hauling needs, whether you want the best daypack for travel, one you can depend on during a long hiking or camping trip, or the perfect pack for climbing, Patagonia has got you covered.
Design
If you enjoy spending time outdoors, whether you're camping, skiing, or hiking, then having a daypack that's tough and waterproof is crucial, especially if you plan on bringing any electronics along for the ride. This pack is the perfect blend of functional and stylish and it gets high marks for versatility.
Made out of sturdy lightweight polyester ripstop material, and offering a durable finish and waterproof design, this pack is what dreams are made of.
This model comes equipped with a few surprising features and it caters mainly to the adventurous, active, working professional. As you can see just from that statement alone, this is one versatile daypack.
Offering excellent utility, this bag is a great choice if you plan on commuting to and from work, need a pack that can handle longer trips, or you want a carry-on large enough to get you through your trip without any checked baggage.
Electronics Protection
Aside from much-needed weatherproofing, the pack also comes with a padded sleeve which will provide your tablet or other electronic gear with some much-needed extra protection. Inside the bag, there's also a buckle you can use to secure your laptop in place. This will give users a little extra peace of mind knowing that their laptop isn't constantly in motion or getting slammed into other items in the pack.
Comfort Level
In terms of comfort, the pack's heavily molded back panel is extra padded, so it promotes user comfort. However, the back panel is not breathable, which means that this added protection can make the pack uncomfortably hot to wear and use during the hotter months of the year, especially when the pack is loaded to capacity.
Unfortunately, this daypack doesn't come with a hip belt, however, this will only be an issue when you're on a long hike and the pack is filled to capacity.
Designed to Meet Your Storage Needs
The pack's single chamber compartment is very large and designed to make it easy to load and access everything. The inner drop-in pocket compartments will allow you to keep your smaller items safely stored and neatly organized. On the outside of the bag, you'll also find a couple of mesh water bottle pockets. On the exterior, there is a small padded pocket you can use to store items that you want to keep highly accessible.
On the front of the pack is a large webbing strap that can be used to tote the bag around like a briefcase.
The bag's top loading design makes it easy to pack and load your gear whether it's documents from the office or clothing for your next trip abroad.
The sternum strap is highly adjustable and can be clipped in a variety of positions along the daisy chain.
The bag itself features a sleek, streamlined design that promotes a full range of motion during a hike or climb. While the pack has a look that's more geared towards the outdoors, it can be the perfect fit for any application.
Waterproof Material
This pack scored well in terms of water resistance. It features a DWR or durable resistant coating which can wear out over time and must be reapplied. The bag can easily withstand a heavy downpour, which makes this a must-have bag for any camper, climber, or hiker, that loves to spend time outdoors during the rainy season.
The bag is coated with a TPU film finish, which is what works to keep your gear and electronics dry in the event you get caught up in a downpour.
Unfortunately, at this time the manufacturer doesn't list a waterproof rating.
Pros
Versatile and comfortable
The pack's large capacity makes it a great choice for longer trips.
Added buckles and protective sleeve allow you to protect your laptop and other electronics during travel.
Waterproof coating will keep your clothing and gear dry when it rains
Highly adjustable straps allow you to enjoy a custom fit
Cons
The weight of the bag can make it uncomfortable to use for longer hikes
This model doesn't come with a hip belt, so longer wear can lead to back pain
If you're looking for a daypack in this size range that's equipped with a hip belt, we recommend the Osprey Xenith 75 Daypack.
Patagonia Black Hole Daypack Conclusion and Rating
Outdoors Habit.com Product Rating: (4.5/5)
This daypack is sleek, stylish, versatile, and perfect for any application you can think of, whether it's camping, travel, a bag you can use at the office, or one you can rely on when you go hiking, once you use it, you'll never leave home without it. It will keep your clothing, gear, and electronics dry when it rains, and it can even make a great commuting pack if you cycle or walk to work. Highly functional, it offers plenty of room for your gadgets and gear and will help to keep you organized when you're on the road. This pack is a great buy, and it's also offered at a reasonable price.
We gave this model a rating of four and a half out of five stars.
Check Price
Summary
Reviewer
Review Date
Reviewed Item
Patagonia Black Hole Daypack
Author Rating





Product Name
Patagonia Black Hole Daypack
Price
Product Availability