OutdoorsHabit.com is a participant in the Amazon Services LLC Associates Program, an affiliate advertising program designed to provide a means for sites to earn advertising fees by advertising and linking to Amazon.com<
Packing light is vital for backpacking, but how light is too light? And what goes into the perfect backpack weight calculation? Payload vs. ounces that is.
This guide will help you get your packing strategy just right to enjoy your hike without feeling weighed down. Let's get started to assist you in reducing pack weight!
How to determine the weight of your pack?
There are a few different ways to determine how much your backpack weighs. The first is to put it on and step on a scale simply. If you don't have a scale, you can estimate your backpack's weight by filling it with common household items like books or cans of soup. 
Once you have a general idea of the weight, you can use a packed base weight calculation chart to help fine-tune your estimate. These charts typically consider factors like the type of backpack, the material it's made from, and the length of your torso. 
With a little trial and error, you should be able to arrive at a reasonably accurate estimate of your backpack's weight.
Factors that affect how heavy your backpack should be
A few factors affect how heavy your backpack should be when you are hiking or camping. 
The first factor is the length of the hike. If you are going on a long hike, you will need to carry more food and water, so your backpack will be heavier. 
The second factor is the terrain. If you are hiking in mountainous terrain, you will need to carry more gear, and your backpack will be heavier. 
The third factor is the weather. If you are hiking in hot weather, you will need to carry more water, and your backpack will be heavier. 
Finally, the fourth factor is your physical fitness. If you are not in good shape, you might not be able to carry a heavy backpack for very long.
Tips for reducing the weight of your backpack
For anyone who has ever lugged a heavy backpack around, the importance of reducing its weight is obvious. Every extra ounce adds to the strain on your shoulders and back, making it more difficult to walk long distances or climb stairs. Luckily, a few simple tips can help you lighten the load. 
First, only pack the essentials. You don't need to bring everything with you everywhere you go. Second, choose lightweight items whenever possible. 
For example, a titanium water bottle is lighter than a glass one. Third, distribute the weight evenly by packing heavier items closer to your back. By following these tips, you can make your backpack more bearable – and your journey much more enjoyable.
Choose the right backpack

Pack lighter gear weight

Put essential items like a sleeping bag, first aid kit, and sleeping pad

Take lightweight tent poles

Distribute the weight evenly

Use comfortable straps

Take breaks often
Recommended pack weights for different types of hikes
When choosing a pack, it's essential to consider the type of hiking you'll be doing and the weight of your gear. If you're carrying heavy gear, you'll need a larger and heavier pack. Conversely, if you're carrying lighter gear, you can get away with a smaller and lighter pack. Here is what a backpack weigh options should be to help save weight on unnecessary items:
Lightweight backpacking: under 20 pounds (9 kg)

 Ultralight backpacking: 10-12 pounds (4.5-5.4 kg)

Super ultralight backpacking: 5-7 pounds (2.3-3.2 kg)

Day hikes: under 10 pounds (4.5 kg)

Weekend hikes: 12-15 pounds (5.4-6.8 kg)

Multi-day hikes: 15-20 pounds (6.8-9 kg)
Adjust your pack's weight depending on the terrain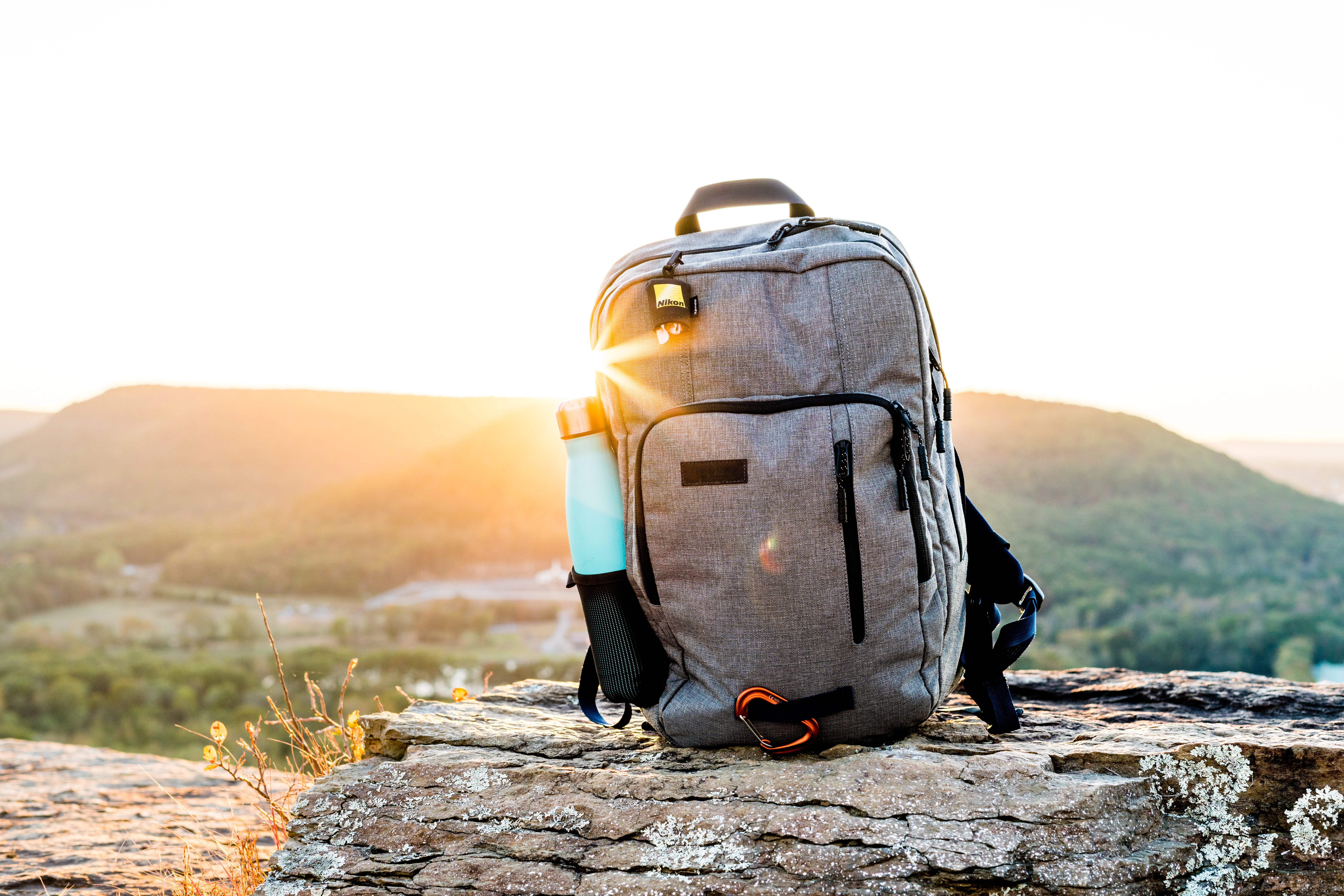 By knowing the features of the terrain, you can determine how to distribute the weight in your pack best. For example, if you're hiking on uneven or rocky ground, you'll want to carry more weight in your pack to keep yourself balanced.
On the other hand, if you'll be hiking on flat or well-groomed trails, you can carry less weight without sacrificing your comfort.
When choosing a backpack, it's essential to find one that fits your body type and frame. If you are carrying too much weight in your pack, it will strain your back and shoulders and can lead to discomfort or even injury. You should also consider the clothing weight and remove unnecessary weight for a better experience.
What to do if your backpack is too heavy or too light?
If your backpack is too heavy, it can cause strain on your back and shoulders, making it difficult to walk or even stand. The best way to lighten the load is to remove unnecessary items.
For example, if you're carrying a lot of heavy textbooks, see if you can leave some of them at home or in your locker. You should also distribute the weight evenly by packing heavier items closer to your body.
 If your backpack is still too heavy after making these adjustments, consider investing in a backpack with wheels or a built-in frame. These backpacks distribute weight more evenly, making them easier to carry.
On the other hand, if your backpack is too light, it may not provide adequate support for your back and shoulders. This can lead to pain and irritation, especially if you're carrying the backpack for long periods. 
To add more support, try filling the space with lighter items such as clothing or blankets. You can also try adjusting the straps so that the backpack sits closer to your body. You can ensure that your backpack is neither too heavy nor too light by following these tips.
Is 35 lbs heavy for backpacking?
This is a difficult question to answer, as it really depends on the person and their unique physical characteristics or body weight percentages.
Some people may find that 35 lbs are too heavy to carry comfortably for long periods, while others may have no issues. Ultimately, it is up to the individual to decide what is best for them.
However, many experts generally recommend keeping backpack weights below 30 lbs to avoid strain and injury. The base weight is also essential when packing for a weekend trip.
So, if you are considering carrying a backpack weighing 35 lbs or more, it is essential to be aware of the potential risks and challenges involved.
How much weight does the average backpacker carry?
The average backpacker carries between 20 and 30 pounds (9 to 14 kilograms) of gear, depending on the length of their trip. Ultralight backpackers may carry as little as 10 pounds (4.5 kilograms), while those carrying heavier loads may exceed 50 pounds (23 kilograms).
 For most people, a moderate load of 25 to 35 pounds (11 to 16 kilograms) is comfortable and enjoyable for a weekend or even a week-long trip. It is necessary to pack weight according to the days of the backpacking trip. Don't put extra weight by taking additional sleeping bags and heavy gear.
Conclusion
Although the weight of your pack is important, it is not the only factor you should consider when choosing a backpack for backpacking.
You also need to think about the size and fit of the backpack and its features. We hope this guide has helped you make an informed decision about which backpack is best for you. We also mentioned how much should your backpack weigh when going on a trip. 
Also, read our guide:
The Best Travel Daypack for Your Trip Reviewed and Compared: Ultimate Guide 2022 Edition