OutdoorsHabit.com is a participant in the Amazon Services LLC Associates Program, an affiliate advertising program designed to provide a means for sites to earn advertising fees by advertising and linking to Amazon.com<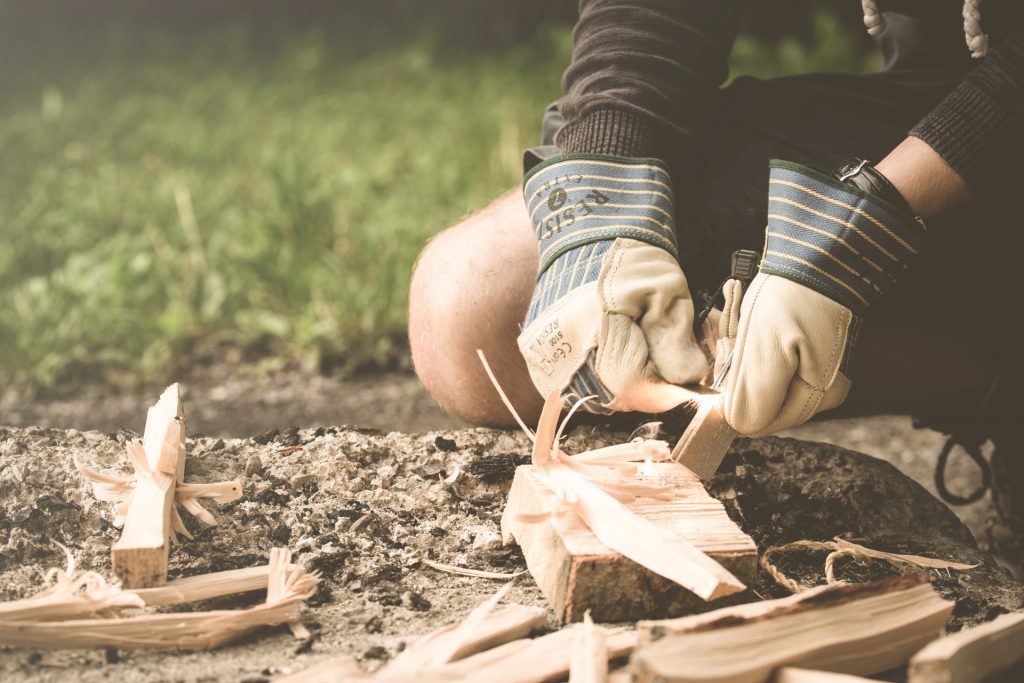 The Gas One is a great budget-friendly buy that's versatile and lightweight. Offering 7,650 BTUs, this is a compact backpacking stove that weighs in at just two pounds, which makes it a great choice for hikers in need of a lightweight model they can easily haul around all day long.
So, if your main goal is to keep your backpack light, but you need a tough little stove you can rely on during a longer trip in the backcountry, the Gas One is the perfect solution.
Overview and Features
This is a single burner butane model. While it lacks wind control and doesn't exactly boil water the fastest, it does feature impressive simmering control. Whether you're trying to fry up some eggs or slow simmer some soup, this model by Coleman has got you covered.
Once you're through with cooking for the day, you can also easily remove the drip pan for easy and fast cleanup.
Its efficiency and lightweight design more than make up for cooking speed and a smaller flame size.
If you only plan on cooking occasionally during your trip, then this may be the perfect backpacking stove. For the price, this stove is surprisingly sturdy. However, if you plan on cooking three meals a day for more than a couple of people, then you'll find yourself going through a lot of butane tanks.
Boiling Time
The time it takes to boil water will depend on which type of fuel canister you use. With a standard butane canister, it can boil surprisingly fact, but once the canister reaches about half capacity, the boil time decreases, and the stove becomes one of the slowest models around. On average, the stove will take about four minutes to boil one liter of water on a windless day. This is about one minute slower than competing models.
Additionally, the butane canisters will really struggle in colder temperatures. If you're expecting to cook in freezing temperatures, then you may want to go with a propane burning stove instead.
Cooking Control
Users will love the stove's autoignition dial and the simmer control. The piezo ignitor is built right into the dial, so you won't have to press another button. This is a very accurate dial in terms of cooking temperatures. With this stove, you can keep your food warm or slowly simmer it, without burning it.
Considering the price, the flame control on this stove is nothing short of impressive. People who prefer cooking with low heat will not be disappointed with this stove's performance. It can make perfect popcorn, fry up bacon, or cook your eggs to perfection.
Keep in mind that this model isn't the best choice if you need a stove that can handle cooking for a large group of people. However, if you purchase more than one stove you'll be able to spread out the cooking. This stove can handle medium sized pots very well or one single large pot. This stove gets the job done, although the burner never gets super hot.
Set up is incredibly easy. Just take the stove out of the case, insert the fuel canister, flip over the drip tray and press the safety lever in order to engage the canister, and that's it. The stove's simple design is what makes set up so easy. Models equipped with large propane tanks, legs, and windscreens take more setup time, but they can also provide extra cooking power.
On the stove, the butane canister will tuck neatly into the side compartment, for faster set up.
Maintenance Needs
Clean up is just as simple as the set up process. Remove the drip pan, empty, clean, and dry. Then wipe down the stove once it has cooled down.
How It Holds Up in Windy Conditions
Unfortunately, you can't use this stove inside the case. However, you can remove the case, turn the stove sideways and use it as a makeshift wind block. Without any type of shelter from the wind, this stove doesn't work very well. In moderately windy conditions it will take about fifteen minutes to boil water.
Portability
The stove is very compact and comes with a carrying case complete with a handle. Despite its size, it's very sturdy. It fits easily into the compact case, which makes it easy to transport. Keep in mind, in order to fit the stove inside the case you must flip the drip pan upside down. Additionally, the fuel canister must be disengaged, otherwise it won't fit. This is a nice safety measure.
Best Used For
Backpackers will love this stove. By itself, it's perfect for people who prefer to eat simply when camping and hiking. It's a great choice if you use plenty of one-pot meals such as mac and cheese or oatmeal. But this stove can also be used to supplement your other backpacking stove if you're serving a large group of people and need an extra burner.
Pros
This stove weighs in a just two pounds, which makes it perfect for long trips in the backcountry.
A great budget-friendly buy
Low maintenance
Easy to use
Can be set up or broken down in seconds
The lightweight design works to keep backpack weight down.
Cons
This stove doesn't boil water very quickly
It can only accommodate up to three people
There are no built-in windscreens which can make cooking on windy days very challenging.
If you're looking for the best backpacking stove that offers more cooking power, you can check out the Camp Chef Pro 90x Camping Stove.
Gas One Backpacking Stove Conclusion and Rating
Outdoors Habit.com Product Rating: (4/5)
The Gas One backpacking stove is a very capable single burner model that's priced affordably. If you prefer to keep your meals simple during your outdoor adventure, this stove is a great choice. Additionally, setup and maintenance are a breeze. While it may not be the best choice for anyone cooking for larger groups, it's still a great little backpacking stove that can cook for up to three people. If pack weight is a huge concern, this two-pound stove will work well to keep the weight down. We gave this model a rating of four out of five stars.
Check Price
Summary
Reviewer
Review Date
Reviewed Item
Gas One Backpacking Stove
Author Rating