OutdoorsHabit.com is a participant in the Amazon Services LLC Associates Program, an affiliate advertising program designed to provide a means for sites to earn advertising fees by advertising and linking to Amazon.com<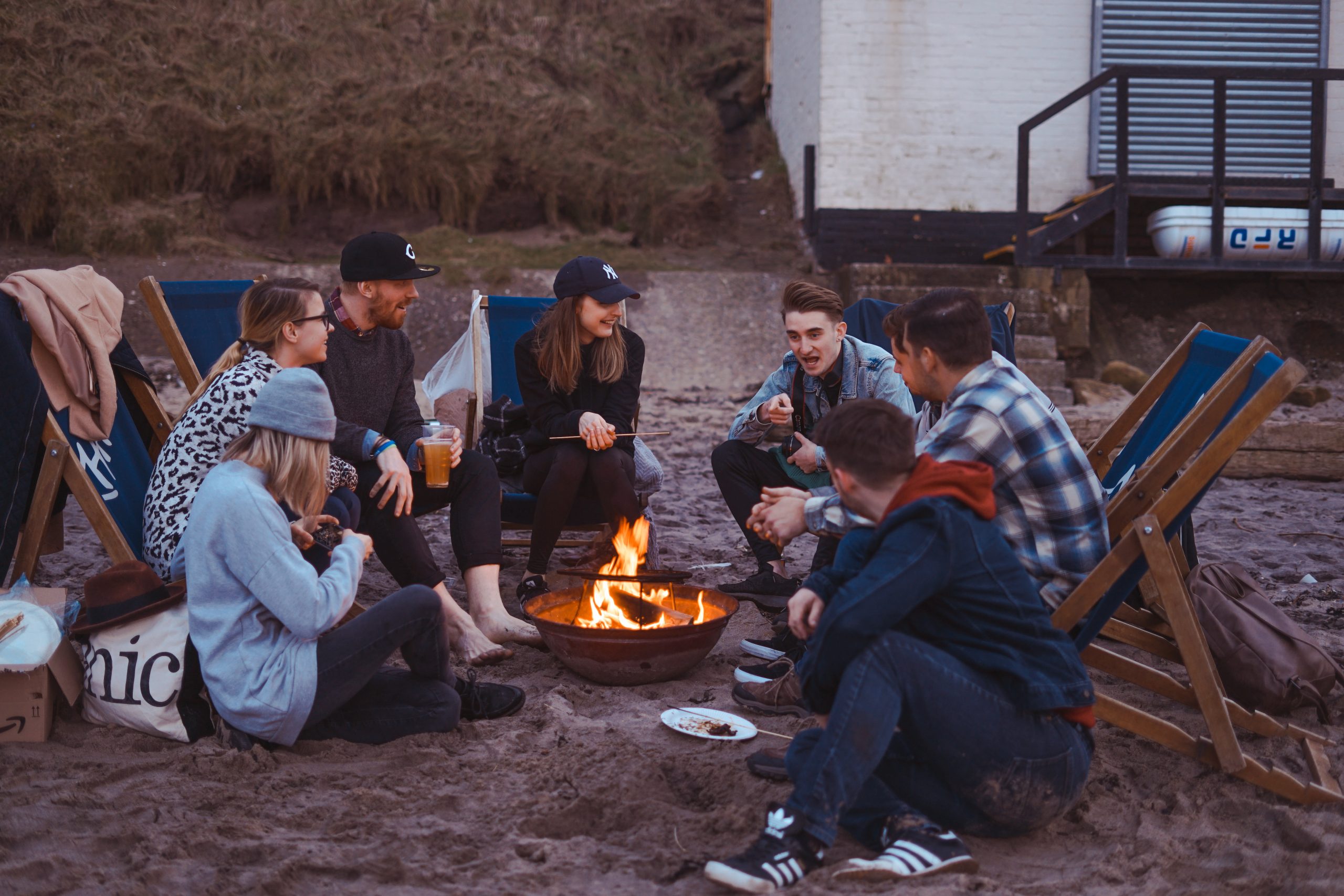 When it's that time of the year when the weather is perfect for camping, you'll mostly have a lot of tasks on your to-do list. You'll need to buy a good tent, some stakes, backpacks, and other camping equipment.
However, finding the best air mattress for camping should be at the top of your list. With all the air mattresses out there varying in types and features, choosing the right one can be time-consuming.
This is why we're here to help you with this air mattress buying guide.
Comparison Chart
[amazon table="221″]
Important Features to Look for in an Air Mattress for Camping
Before we discuss our favorite picks, we'll give you some insight into how we chose them in the first place. The following factors should cover everything you should look for.
Size: The first factor you should consider before buying an air mattress is its dimensions. Of course, it's all based on the size of your tent. If you have a wide, comfy tent, then you can go ahead and get a spacious air mattress.
For instance, if you own an 8-person tent, then you can occupy it with 1-2 queen-sized mattresses and still have some space inside
However, if your tent doesn't fit more than two people, then a twin-sized air mattress can do the trick.
In addition to that, you should pay attention to the air mattress size when it's folded. This is because you'll need to carry it in a backpack if you like to go hiking before settling to camp. Also, its size should be convenient enough to allow you to pass it through the tent door.
Another thing you should think about is storage. You should always look for an air mattress that doesn't take too much space when folded.
Weight: Again, portability is key to a nice, mistake-free camping trip. If you're going to buy an air mattress for camping, make sure it's not heavy.
Being lightweight will make it easier for you to keep it in your backpack with other camping equipment.
Material: Picking an air mattress material depends on your preference. You'll find several materials to choose from.
PVC: The most common material for air mattresses is PVC. If you're wondering why it's because PVC can withstand wear and tear. It can make the air mattress last longer because it suits its nature of being inflated and deflated many times.
However, you might not like this option because PVC is harmful to the environment.
TPU: This is another material you can find for air mattresses. You might like TPU better because it's like a combination of plastics and rubbers. Also, it's sturdy and flexible, which are two things you should look for when you're camping.
The only thing that gives PVC advantage over TPU is that the former costs less than the latter. Therefore, a TPU air mattress can be a great choice if your budget allows it.
Comfort: While you might use an air mattress for only a couple of days, you might as well have a comfortable sleep at night.
To do this, you can look for mattresses with adjustable firmness to match your best level of comfort. Also, some mattresses are featured with soft tops so you won't need to spread any sheets over them.
Mattress Pumps: To inflate your mattress, you'll need a reliable pump to aid you. If you don't already own one, then you should relax because most air mattresses come with pumps.
You can find either an electric or a battery-powered pump. Of course, deciding your pick is based on what suits you best. However, a pump that works with rechargeable batteries can be more convenient for camping since you won't have access to electricity.
If you're camping in your backyard, then there's no problem buying an electric pump.
Choosing the Best Air Mattress for Camping Outdoors
We've taken the liberty to pick a few air mattresses for you. These products should cover everything you might want in an air mattress for camping.
You'll find budget-friendly options as well as mattresses with durable materials. Also, we found mattresses with more features that can pique your attention.
We've come across air mattresses that are better suited for travel and transport. Being lightweight and portable, they might be your best bet if you like to go hiking before camping.
If you're more into high-quality materials and manufacturing, then fear nothing. Our list includes luxury mattresses for maximum comfort and better sleep at night.
Now that you have an idea about what to expect, let's take a look at the products. Before we begin an in-depth review, we'll give you a comparison table for a quick inspection.
1. Best Air Mattress for Camping
Our Rating: (5/5)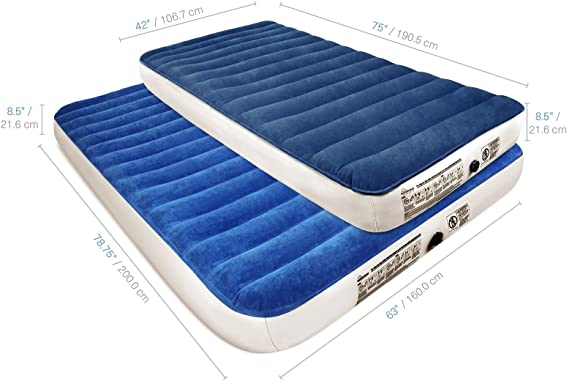 Our favorite pick is this incredible air mattress by SoundAsleep Products. Let's dive into its features and the reasons why it's our top-choice product.
You should take a look at its firm and sturdy materials. Made of outdoor-friendly PVC, you can count on it for durability. Also, it's equipped with I-Beam Air Coils for a steady structure.
As for its pump, it's external and features a heavy-duty rechargeable battery. Therefore, you can charge at home before heading to your campsite. Furthermore, it should work pretty great with your car charger.
Nothing beats the fact that it can reach full inflation in about 3 minutes. You can say goodbye to all the time wasted while waiting for the mattress to become firm.
In addition to that, this air mattress is one of the best portable ones out there. It weighs about 9 pounds and comes with a bag so you can carry it with ease.
Pros
Lightweight and portable
Takes less than 3 minutes to inflate
Comes with a rechargeable battery
Sturdy and durable build
Withstands a maximum weight of 500 pounds
Great sleep quality
Available as queen-sized or twin-sized
Moderately-priced
Cons
Made of PVC
The air pump might be too loud to use at night
2. Best Lightweight Outdoor Air Mattress
Our Rating: (4/5)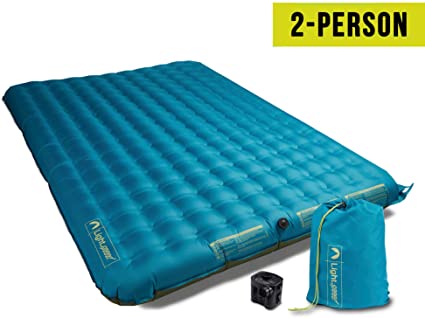 If you're more of the traveling or hiking type, you should be looking for the best lightweight mattress. Well, this airbed by Lightspeed Outdoors should do the trick.
The first thing to admire about it is that it's PVC-free. Because it's made of TPU, you can rest assured that it doesn't harm the environment the way PVC does. Also, TPU is a relatively lightweight material, marking this airbed as portable.
Aside from its weight, TPU has other impressive features. For example, it's more durable and temperature-stable than PVC and doesn't cause unwanted plastic odors.
Second of all, it comes with a battery-powered pump, but you'll have to buy the batteries separately. This pump inflates the air mattress through a single-cap valve. This way, inflation, and deflation should be quick and easy.
Lastly, this air mattress comes with a storage bag to make traveling easier and more efficient.
Pros
Perfect for traveling or car camping
Made of TPU
Features patented stabilizing system
Quick inflation using a single-cap valve
Comes with a battery-operated pump
Storage bag included
Moderately-priced
Cons
Might not be comfortable enough for 2 people
The valve might not work with other pumps than the one provided
3. Best Glamping Air Mattress
Our Rating: (4/5)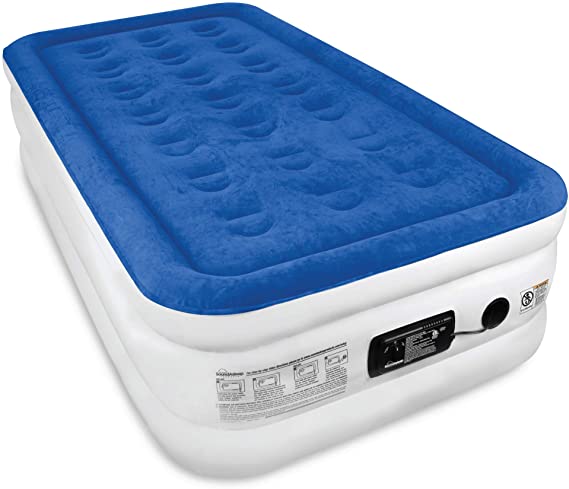 It's about time to up our game and look for something a bit more glamorous. For this reason, we present you with this awesome air mattress by SoundAsleep.
If you want to have the camping trip of your dreams and don't mind spending some extra cash, this mattress should have you covered.
First of all, let's talk about its structure. This air mattress comes with ComfortCoil technology and a SureGrip bottom. This way, you can have a comfortable sleep without slipping. Also, this technology helps the mattress remain firm and sturdy.
Second of all, this air mattress comes with a patented 1-click internal pump. It can reach full firmness in under 3 minutes, saving you time and effort.
What we also like about this luxurious air mattress is its thick top. This durable PVC top is waterproof and puncture-resistant.
All in all, you can count on this air mattress to have the best glamping experience.
Pros
Durable and steady structure
Involves internal 21 air coils
Double-height air bed
High-quality materials and manufacturing
Easy inflation and deflation
Waterproof and puncture-resistant top
Cons
Made of PVC material
Might start losing air after a year of use
Weighs more than the other options
Can be on the expensive end
4. Good Air Mattress for Camping
Our Rating: (4/5)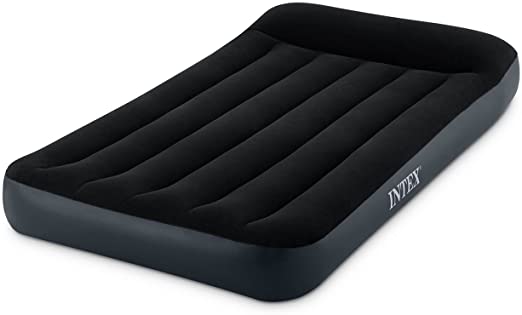 Looking for a nice air mattress that doesn't break the bank? You should check out this one by Intex. We've come to discover many great features you might like.
Besides its value for money, we admired the construction of this air mattress. It comes with a built-in pillow and its waterproof firm top. Also, the top is supported by vinyl beams to ensure a restful sleep.
This air mattress features a built-in electric pump that helps it inflate in under 3 minutes. It also comes with a bag for easy storage and transport.
As for its size, it's available in twin size, and the dimensions might vary depending on how much you inflate it. Also, the vinyl can relax with time due to several factors. These include temperature, humidity, and camping location.
Pros
Sturdy construction
Waterproof top
Comes with a built-in electric pump
Storage bag included
Budget-friendly
Cons
Tends to leak air after use
Needs constant inflation
The air pump can be too loud
5. Best Value Camping Air Mattress
Our Rating: (4.5/5)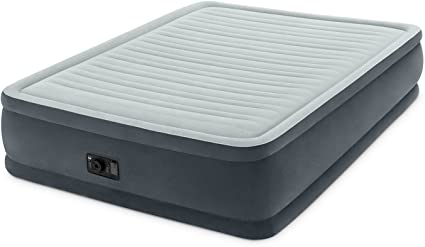 Here's another budget-friendly air mattress by Intex. This air mattress comes in queen and twin sizes and uses Fiber-Tech construction.
Like the previous one, it's equipped with a high-powered built-in electric pump. It should be able to reach full inflation after about 4 minutes.
Also, it has a waterproof top with indented sides to keep your sheets from slipping away. Not just that, but it can withstand a weight capacity of 600 pounds.
Lastly, this Intex air mattress comes with an AC power cord and a duffel bag so you can carry it with ease.
Pros
Features Fiber-Tech construction
Comes with a built-in electric pump
Waterproof top
Available with a duffel bag
AC power cord included
Great for a small budget
Cons
Might leak air after a while of use
The materials could've been of higher quality
Air Mattress for Camping Buying Guide
Now that you've taken a good look at your list of products, it's time to make up your mind about which one to buy. We'll make things easier for you by providing you with this buying guide.
Choosing the best air mattress for camping relies on the type of activity that you do while camping. For instance, you might like to go hiking before settling to camp, or maybe you're more of a traveler.
No matter the case, you should determine the scenario of your camping trip. This way, you'll know for sure which type of air mattress to buy.
Air Mattress for Hiking
If you like to take a long hike before setting up your camp, then there are many things that you'll need in an air mattress.
The first obvious thing is that it needs to be lightweight since you'll be carrying it for a long time.
Also, you should choose one that comes with a bag. Besides the air mattress, this bag should have more space for other camping equipment.
Air Mattress for Travel
If you travel a lot, then you should look for a lightweight and durable air mattress. This is also the case if you like exploring different parts of the world.
Your mattress should be made of materials that won't be affected by the difference in temperature or humidity. Also, you should look for the sturdiest structure. This is because you'll be moving a lot and camping in various locations.
As for its pump type, you should refrain from getting one with an electric pump. If you like to camp in the woods, then you'll have no access to electricity. In that case, your best bet is to buy an air mattress with a battery-powered pump.
Air Mattress for Home Use
Having guests staying over for a couple of nights? You might not have enough beds or rooms to take them all. This is when you'll need to buy a few air mattresses to solve the problem.
You should aim for small air mattresses that you can place anywhere without taking space. Also, they'll need to be firm and steady enough to make your guests comfortable.
When considering the pump type, you can get an electric pump. This is your best option since you'll be home and will have access to electricity.
Another thing you should think about is the materials. It's okay to buy a mattress that isn't made of weather-resistant materials since you won't take it outdoors. Therefore, you'll be saving more money and narrowing down your options.
Air Mattress for Car Camping
If you travel much by car, you might occasionally need to camp in the backseat for a night or two.
For this reason, you should get a small air mattress that can fit easily in your car. Aside from that, you should make sure it doesn't take much space when deflated.
When it comes to the pump, then your best bet is getting a mattress with an external rechargeable pump. It's the most convenient since you can use your car charger to recharge it.
How to Inflate an Air Mattress Without a Pump
Using an air pump is fairly easy no matter what type it is. However, if you can't find your pump anywhere, or your air mattress doesn't come with one, we can help you out.
Several tips can help you inflate an air mattress without using a pump.
Using a Hairdryer
Our first suggestion is simple. You can hold your hairdryer in front of the open valve hole to start inflating your mattress.
As a general rule, the dryer may not fit the valve hole the same way that a pump does. As a result, the whole process might be a bit slow.
Remember to turn on the cool air option on the dryer. Using hot air can cause the mattress material to stretch or melt since most air mattresses are made of PVC.
Using a Tire Pump
If you lost your external pump but don't want to miss an awesome camping trip, you can always use a tire or a bike pump. Aside from being a great solution, it should be easy to carry to your campsite and it doesn't need electricity.
However, it might be small to use with your air mattress, but you can widen the pump nozzle until it fits the valve.
 Using a Garbage Bag
No matter how weird it may sound, it can be a good trick if you have nothing else to use. You'll always have it on you when you're camping, and it weighs nothing.
First, you should open the garbage bag and swing it around to fill it with air. Then, trap the air inside the bag by keeping a firm grip on the opening.
Second of all, position the opening of the bag in front of the air mattress valve hole. After making sure it's properly aligned, press the contained air into the mattress.
You'll need to repeat this several times until the mattress reaches proper inflation.
Using Your Breath
If all else fails, this is your last retreat. Although this is the slowest way to inflate an air mattress, it should do the trick if you can't find anything else to use.
Before you start blowing into the valve hole, make sure it's clean. You can wash it with soap or use sanitizer.
Deflating an Air Mattress
When it's time to pack your things to leave the campsite, you'll want to deflate your air mattress to carry it to your car.
Although it's an easy process, since you'll only need to unscrew the valve cover, some models require more. For instance, some air mattresses come with an air-release switch that you need to flip.
To let the air out more quickly, you can keep pressing the air mattress or folding it. When all the air is almost out, fold the mattress tightly so you can store it anywhere you like.
If you're not the one to wait, you can use a vacuum to increase the deflation speed.
Taking Care of Your Air Mattress
You can follow some simple tips to ensure that your air mattress stays firm for as long as possible.
Check your surroundings before setting your mattress down
Don't inflate it next to any source of heat
Don't fill it with too much air
Use blankets and sheets to protect it from dust
Clean your mattress before deflation using dish soap and water
Rinse thoroughly with clean water
Dry the air mattress, then deflate it
Store it in a secure, dry place
Take it out of storage every now and then to check on it
Make sure it's free of mildew or small insects
To Wrap It Up
Nothing beats a good camping trip. Not only is it a fun experience, but research found it to be great for mental health.
To get the best out of camping, make sure you buy the right air mattress. It should combine comfort, practicality, and a suitable price.
As for our top pick, it's the marvelous SoundAsleep Camping Series Air Mattress. Not only does it provide a mixture of quality and price, but we also admire it for its comfort and firmness.
Also, it can save you time and effort because it can reach full inflation in under 3 minutes.
After checking out our list of air mattresses, it's time to make your decision. After all, choosing the best air mattress for camping depends on your preference and your favorite activities.