OutdoorsHabit.com is a participant in the Amazon Services LLC Associates Program, an affiliate advertising program designed to provide a means for sites to earn advertising fees by advertising and linking to Amazon.com<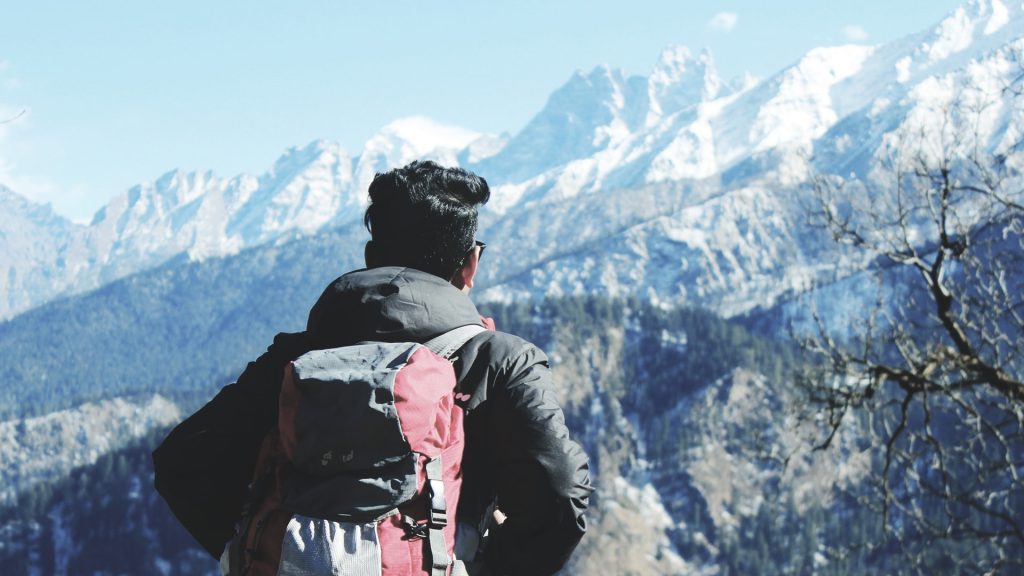 The Daylite Plus daypack by Osprey is the perfect pack for travel, for the office, or to take along on your next hiking trip. In fact, in terms of versatility, this bag scores big. Reasonably priced, comfortable, and built tough, you'll love how versatile and adjustable this bag truly is. In terms of versatility, this is one of the best daypacks for travel on the market.
While it's not big enough to store gear for several days in the backcountry or a long trip abroad, it can easily hold enough gear to see you through for two to three days. The bag is streamlined, simple, and designed to make it easier for the wearer to quickly and easily access their belongings.
Overview and Feature
The bag features a front panel shove-it pocket that will allow you to keep important items easily accessible. The bag comes complete with an integrated handle to make hauling and storing this bag much easier.
This daypack is available in ten colors including beryl blue, black, eggplant purple, frost white, magma orange, misty teal, real red, solar yellow, stone gray, and Tahoe blue.
This bag is the ultimate combination of an travel laptop bag and a hiking daypack. It's a bag that performs just as well outdoors as it does at the office, and it can also be a great fit if you cycle to and from work and need a bag that can keep your gear secure.
This company is already known for producing comfortable packs. Even despite the pack's minimal suspension, the overall design of the pack makes it incredibly comfortable to use. While a little on the thin side, the shoulder straps are proportioned and contoured just right. The hip belt is removable and highly adjustable.
The back panel features a mesh over foam design that makes it highly breathable.
The pack weighs in at twenty ounces and comes equipped with more accessory pockets compared to other daypacks in this price range.
Versatile Design
The pack's decent capacity allows you use the pack for long weekend trips and camping adventures and it can store enough gear for two or three days. The pack's capacity comes in at twenty liters.
It also comes with a padded laptop sleeve, which is what makes this bag such a great choice if you're looking for a tough daypack you can use as a carry-on or one that you can take to the office. The thick laptop sleeve does a great job of providing much-needed extra protection for your laptop or tablet.
The bag's shoulder straps are highly adjustable, while the hardware, such as the buckles and zippers work smoothly.
Design and Durability
The pack features a frame that's slightly rigid, which is what helps it keep its shape.
On the outside of the pack, you'll find a total of seven decent sized pockets.
The clips found on the sides of the pack can be used to expand the back panel, turning it into a pocket. This clipped up pocket features webbing that expands impressively far and can be used to store extra gear.
Inclement Weather
So, how does this bag hold up in inclement weather? While it can't compete with top of the line daypacks designed with skiing and touring in mind, it does fairly well in rainy weather conditions.
The bag is made out of water-resistant materials designed to keep your electronics, clothing, and other gear dry, however, considering it's water resistant and not waterproof, this bag is not able to keep your gear dry in the event of a heavy downpour. Instead, it provides protection against damp weather conditions such as light rain or on foggy days. If you plan on taking this pack with you during the rainy season we recommend you purchase a compatible rain cover.
Design
This is one well-built pack.
On each side of the pack, you'll find a large water bottle pocket.
The bag is equipped with smooth zippers, thick shoulder straps, a removable hip belt, thick material, plenty of pockets, tight seams, and a number of storage options.
Where this Daypack Shines
This pack can be used for a wide range of applications from climbing, camping, and hiking, to travel, commuting, or as a bag you can use at the office. While some hikers don't recommend this bag simply because it's not large enough for longer trips, it's the perfect pack to use for a long day out in the backcountry.
Pros
Built tough, this bag comes equipped with thick shoulder straps and top of the line zippers.
The water-resistant materials will keep your gear dry when it rains.
Thick shoulder straps are highly adjustable and comfortable.
Equipped with a variety of pockets to keep your gear organized.
Cons
The bag isn't waterproof, which means it cannot withstand heavy rainfall.
This pack isn't designed for longer outdoor trips
For some, the weight of the pack is too heavy, especially for intense climbs or longer hikes.
If you're in need of a larger daypack, and one that can handle serious weather conditions, take a look at our review on the Patagonia Black Hole Daypack, which has a reputation for being one of the best daypacks for hiking and travel.
Osprey Daylite Plus Conclusion and Rating
Outdoors Habit.com Product Rating: (4/5)
The Daylite Plus daypack by Osprey is durable and comfortable enough for all-day wear. It also comes loaded with plenty of pockets so you can keep all of your gear well organized when you're on the road or vacationing abroad.
It handles well both outdoors and indoors and can be the perfect choice if you're in need of a medium sized carry-on bag or an incredibly durable pack you can wear when cycling. You might be a little disappointed in this pack's ability to handle rain. However, for the perfect bag to use during the hotter months of the year, the Daylite Plus is really all you need to take with you when you head out for a day-long hike in the backcountry.
We gave this daypack a rating of four out of five stars.
Check Price
Summary
Reviewer
Review Date
Reviewed Item
Author Rating