OutdoorsHabit.com is a participant in the Amazon Services LLC Associates Program, an affiliate advertising program designed to provide a means for sites to earn advertising fees by advertising and linking to Amazon.com<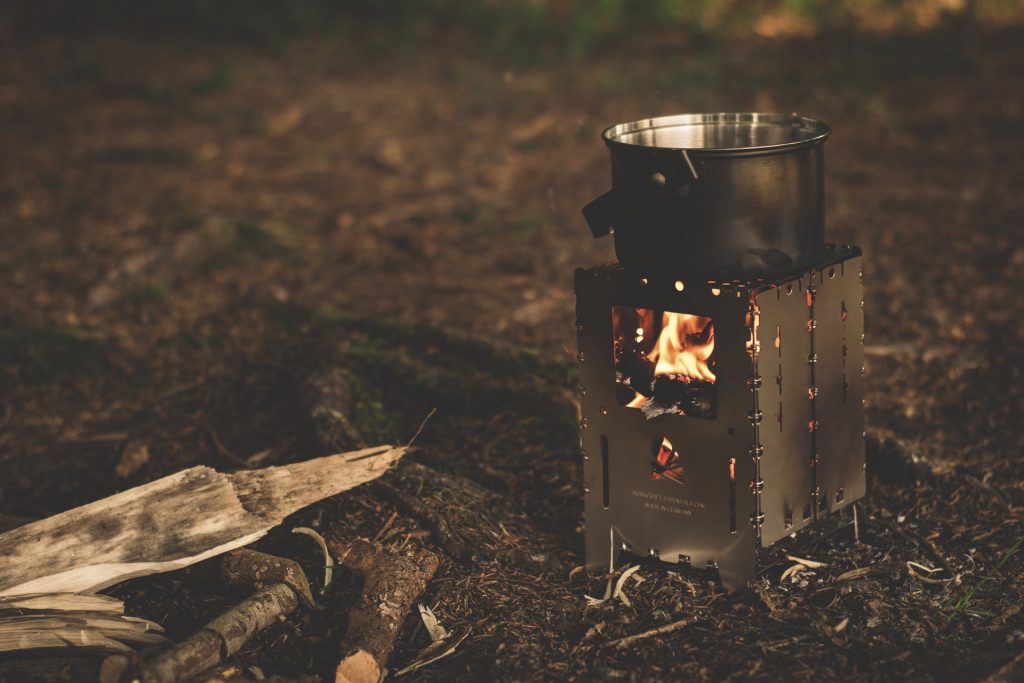 With so many backpacking stoves to choose from, it can be hard to determine which model is the best for you. But that's where we come in. We've checked out dozens of the leading models of the best backpacking stoves and narrowed it down to the top five. Each stove can work well for a variety of budgets and situations. Whether you prefer to pack light and rely on a one burner model, or you're cooking for a large backpacking group of six or more, we've got the right backpacking stove for you.
How We Chose the Leading Backpacking Stoves
Size: We checked out both compact one-burner and two-burner models, and even found the top-selling three burner stove designed to cook for larger groups of backpackers. When you look at each model, it's important to consider how many people you plan on cooking for on average, and how often you plan on cooking.
BTUs: The higher the BTUs, the more power a stove has. However, the placement of the burners and overall design of the stove can also be determining factors when it comes to the real strength of a stove. We found single burner options that offer a decent amount of BTUs that are perfect if you're cooking for two. We looked at double and triple burner stoves that were packing some serious power, which is what makes them perfect for cooking for larger groups.
Wind resistance: Wind resistance will always be a big deal if you're cooking outdoors and in need of a backpacking stove that can withstand mild to moderate wind conditions. We found many models that excelled in this category, thanks to their built-in windscreens.
Boil time: We also looked at boil performance and how long it took each model to heat up a pot to the boiling point. Not every stove we chose offered a stellar performance in this area, but each one did better than average compared to other stoves in that particular price range. While boiling time may not seem like a big deal, it will really matter when you're camped out in freezing temperatures.
Knob adjustability and temperature control: When you're cooking outdoors on your next adventure, you'll want to use a stove that gives you more control over the flame size. This is especially important if you enjoy cooking one pot meals. We found several stoves that excelled in this area, so you can slow cook and simmer each dish, without burning it.
Pricing: Obviously, the higher the price tag, the more features, BTUs, and power you'll get. But if you're only cooking for yourself and one additional backpacker, then you'll find that our low-priced models will work just fine for great one pot meals that you can cook up in just minutes.
Now, it's time to check out our top-rated model, the Chef Pro 90x. This is a popular model among large backpacking groups. Now, this model isn't like your basic backpacking stove, in fact it weighs over fifty pounds. But if you normally camp out with a large group, then you and your fellow backpackers can definitely benefit from this top-notch cooking machine.
Comparison Chart
Product
BTUs
Fuel Type
Cost
Rating
Stansport 2 Burner Propane Camp Stove



Check Price

50,000
Propane
$
4.5
Gas One GS 1000 Portable Gas Stove



Check Price

7,650
Butane
$
4
Coleman Triton 2 Burner Propane Stove



Check Price

22,000
Propane
$$
4
Camp Chef Pro 90x Camping Stove



Check Price

30,000
Propane
$$$
5
Coleman Butane Instastart Backpacking Stove



Check Price

7,650
Butane
$
4
Best Backpacking Stove-Camp Chef Pro 90x Camping Stove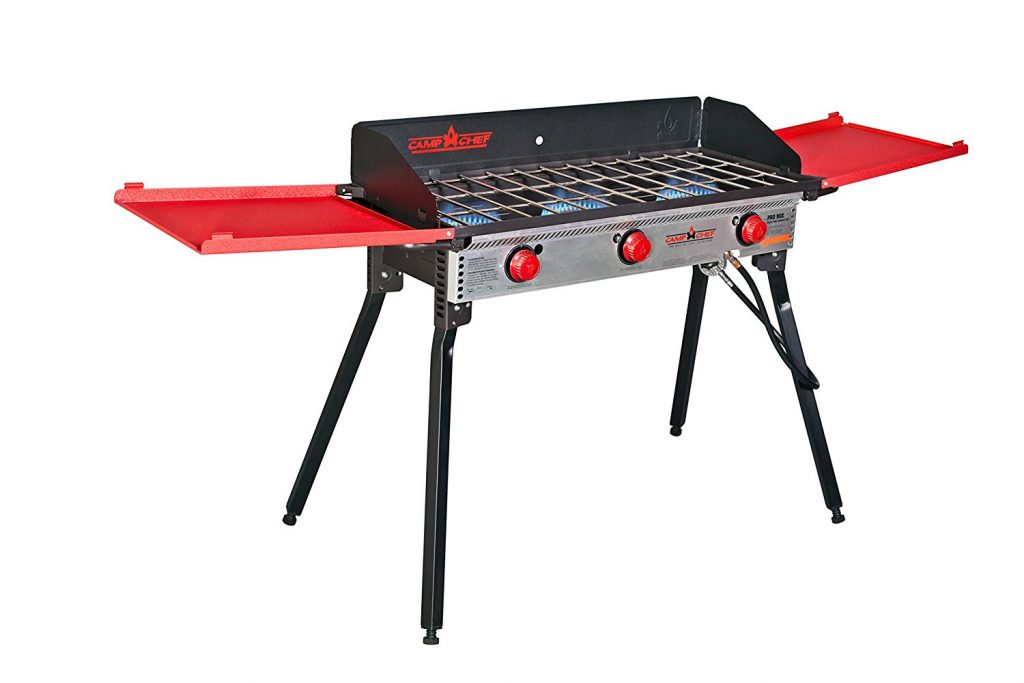 Our Rating: (5/5)
This isn't exactly the type of backpacking stove you can easily haul around, but you'll soon find that it's a much more affordable option than using several smaller one-burner camping stoves if you're traveling in a large group of backpackers. It's also very energy efficient, provides a much larger cooking surface, and it's packing some serious power. We seriously can't say enough about this stove by Camp Chef's top-notch performance.
1st Place Best Under $50- Stansport 2 Burner Propane Camp Stove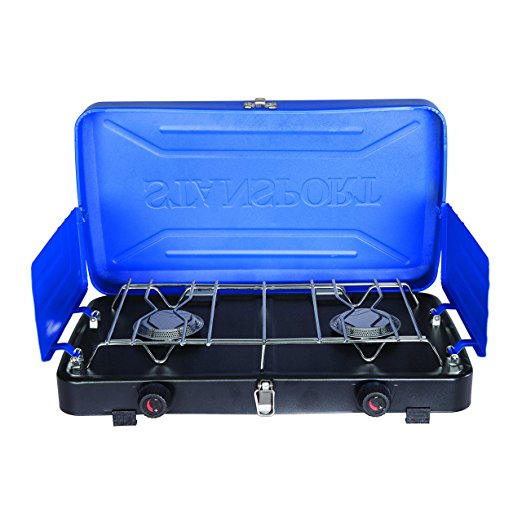 Our Rating: (4.5/5)
This is a great, powerful two-burner stove that offers twenty thousand BTUs, a faster boiling time, and it also allows you to easily control cooking temperatures, so you can prepare your favorite slow-cooked dishes. It offers decent wind resistance, easy operation, and set up and clean up is fast and simple.
Runner-up Best Backpacking Stove Under $50-Coleman Triton 2 Burner Propane Stove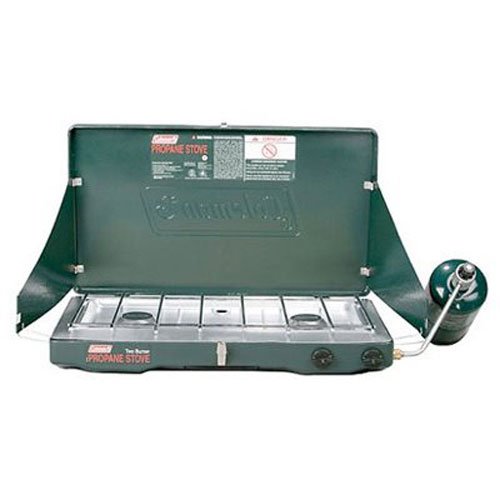 Our Rating: (4/5)
This top-selling backpacking stove by Coleman offers some serious power, easily controlled cooking temperatures, and a faster boiling time. Easy to clean and maintain, you won't want to leave this stove behind on your next backpacking adventure. This stove is a great budget-friendly alternative to any backpacker who's in need of a reliable stove they can use in a wide range of weather conditions.
Best Backpacking Stove Under $30- Coleman Butane Instastart Backpacking Stove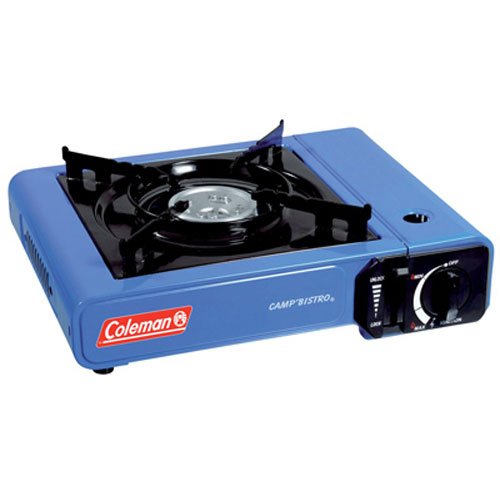 Our Rating: (4/5)
This compact, lightweight stove by Coleman is a great little one-burner model that will really come in handy on those cold nights out in the backcountry. It's a great choice for any traveler who enjoys one-pot meals, or hot coffee in the morning. This stove is easy to maintain and use, and it's the perfect choice if you need a stove that can handle cooking for two. The innovative lightweight design and ease of use make this model a great choice for longer backpacking trips.
Best Backpacking Stove Under $20-Gas One GS-1000 Portable Gas Stove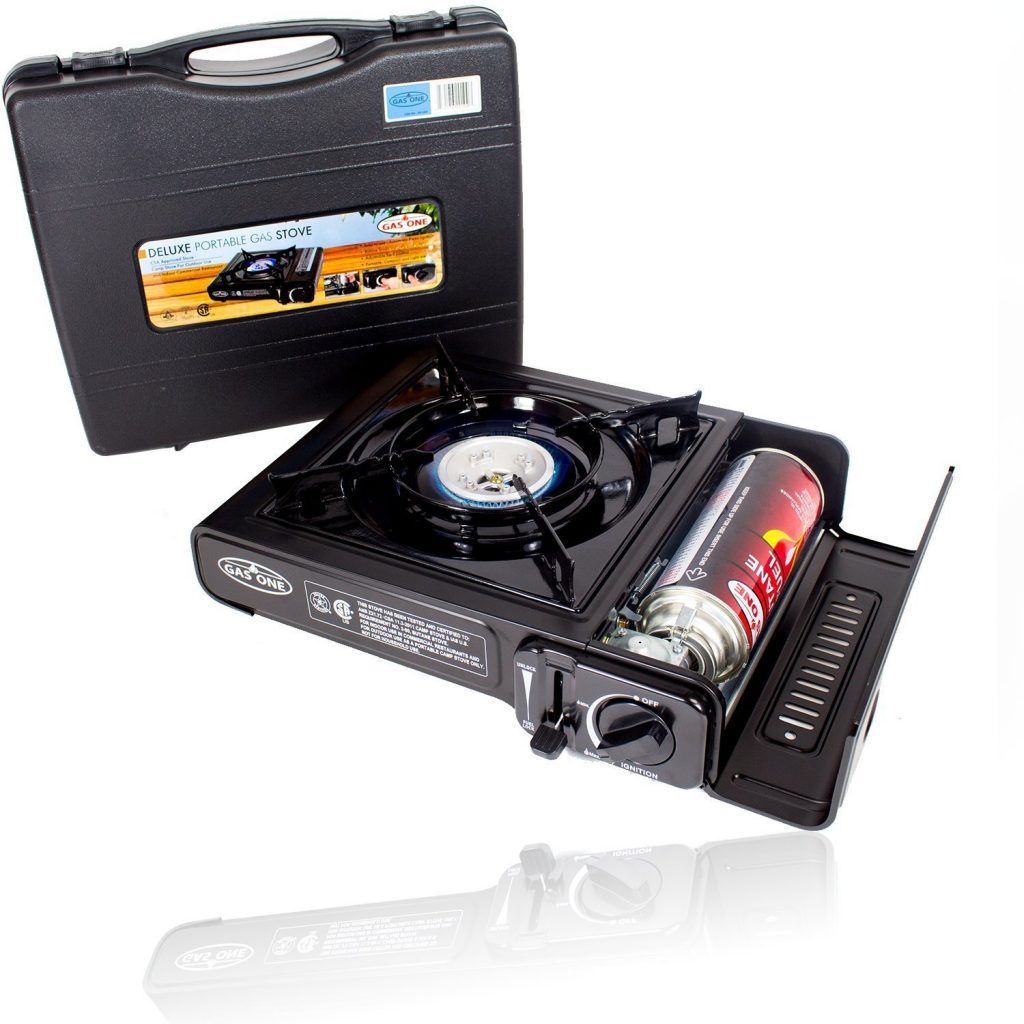 Our Rating: (4/5)
This stove by Gas One is very budget-friendly, lightweight, and compact. It's perfect for one pot meals, and weighing in at just two-pounds, it will be the best choice if you're desperately trying to keep your pack weight low. While it's not quite as powerful as higher priced backpacking stoves, it's definitely a solid performer and a stove you can rely on during any type of outdoor adventure.
Backpacking Stove Buying Guide
The best backpacking stove can make a world of difference when you're in the backcountry. In fact, they can make life much simpler and easier. In our guide, we'll discuss the different styles of stove options available, as well as discuss the important factors to consider when you're choosing the right stove for your next backpacking trip.
Cooking in Style
For light, fast, and short backpacking trips, the canister stove is the top choice. These stoves are easy to use, small, and lightweight. Generally, a canister stove is the best choice when your main concern is weight and space. However, they're also very easy to use and simmer well.
Integrated Canister Stoves
Integrated models combine a heat exchanger pot with a burner and are designed with wind resistance in mind. They're also very fuel efficient, which makes them the perfect choice for high wind environments.
These stoves have become very popular in the camping and hiking world. In fact, they're great at boiling water, but they're not very efficient at heating up anything else.
While some types of integrated camp stoves have difficulty working in cold temperatures and high winds, other models are specifically designed to handle inclement weather. What makes this type of camping stove more fuel efficient is they insulated, integrated pot systems in which the heat from the burner comes into direct contact with the pot. This type of stove is a great choice for the mountain climber who loves challenging climbs during the colder months of the year.
Small Canister Stoves
A small canister stove is lightweight and compact and is a better option for the backpacker concerned about keeping the weight of their pack down. However, these small canister models tend to be the worst choice in high wind conditions and are not quite as fuel efficient as their integrated canister stove counterpart. However, they're more versatile because you'll be able to use different types of cookware on the burners and you'll have more control over the cooking temperature.
This type of stove is very lightweight and easy to use, and they really can be a great addition to your outdoor toolbox.
Liquid Fuel Backpacking Stove
This type of stove is a true workhorse. To use this stove efficiently will take a bit of practice, but it's definitely worth it considering how versatile it is. It consists of many parts and must be correctly primed before use. Many models are multi-fuel, which means they will burn anything from canister fuel to white gas, which is a huge plus if you enjoy taking international trips and you're never sure what type of fuel source will be available.
When it comes to the type of cookware you can use, these stoves are also very stable. Some models can even simmer, which can make it much easier to cook a complex meal.
They're also a good choice if you're cooking for a large group.
Keep in mind that they're pretty bulky and heavy, so they wouldn't be the best choice if you're searching for a stove that won't add too much weight to your pack.
Solid Fuel Burning Backpacking Stoves
Avid backpackers and thru-hikers are always searching for a new way to lighten their packs. Solid fuel burning models can be the perfect solution. These stoves allow you to choose from either burnable material along the trail or you can use a type of chemical fuel.
The main appeal behind these stoves is their low weight, however, many hikers have run into more problems with this type of camping stove, than any other style. First off, the chemical fuel isn't very efficient, and it smells horrible. Next, these stoves don't come equipped with temperature control, so it can take a long time just to get water to boil. Additionally, if you decide to only burn wood, then you'll have to depend on your surroundings to find your fuel, which can be a major downside depending on where you're hiking and whether or not it ends up raining since wet wood will not burn.
Alcohol Backpacking Stoves
These stoves are incredibly light and work by burning denatured alcohol. They work best for making freeze-dried meals or boiling water. Many hikers prefer this type of stove because the fuel is available everywhere and it's inexpensive.
Canister Versus No Canister
Most hikers don't know what to do with empty canisters once they're used up, which is why many ended up tossing the canisters out once they're empty. And for this reason, many hikers tend to avoid canister stoves because they consider them to be environmentally unfriendly. However, these days you can now recycle the empty canisters. All you have to do is poke a small hole in the canister and crush it down. These canisters can be recycled at any recycling center.
But the fact that you have to lug around the empty canisters is still a major drawback for some backpackers. Using liquid fuel means you only have to haul the liquid fuel bottle around, which can be refilled once you run low.
Pretty much every stove will have issues in the cold because this will cause the pressure to drop in the fuel container. But with a liquid fuel stove, you can increase the pressure in the fuel bottle by simply pumping up the stove more. This just isn't possible with a canister stove.
Another major issue with a canister stove is that it can be difficult to tell how much fuel is left in the canister. Some backpackers have resolved this issue by purchasing a digital scale and weighing the canisters, but if your goal is to keep the weight of your pack low, then adding another device to your pack can be a major problem.
Budgeting for the Best Stove
Often, small canister backpacking stoves are the most affordable option, while integrated canister stoves and liquid fuel stoves are on the pricier side. But instead of focusing on price, determine which type of stove you need based on where you camp, the size of your group, and whether or not weight is a major concern for you, especially on a longer trip.