OutdoorsHabit.com is a participant in the Amazon Services LLC Associates Program, an affiliate advertising program designed to provide a means for sites to earn advertising fees by advertising and linking to Amazon.com<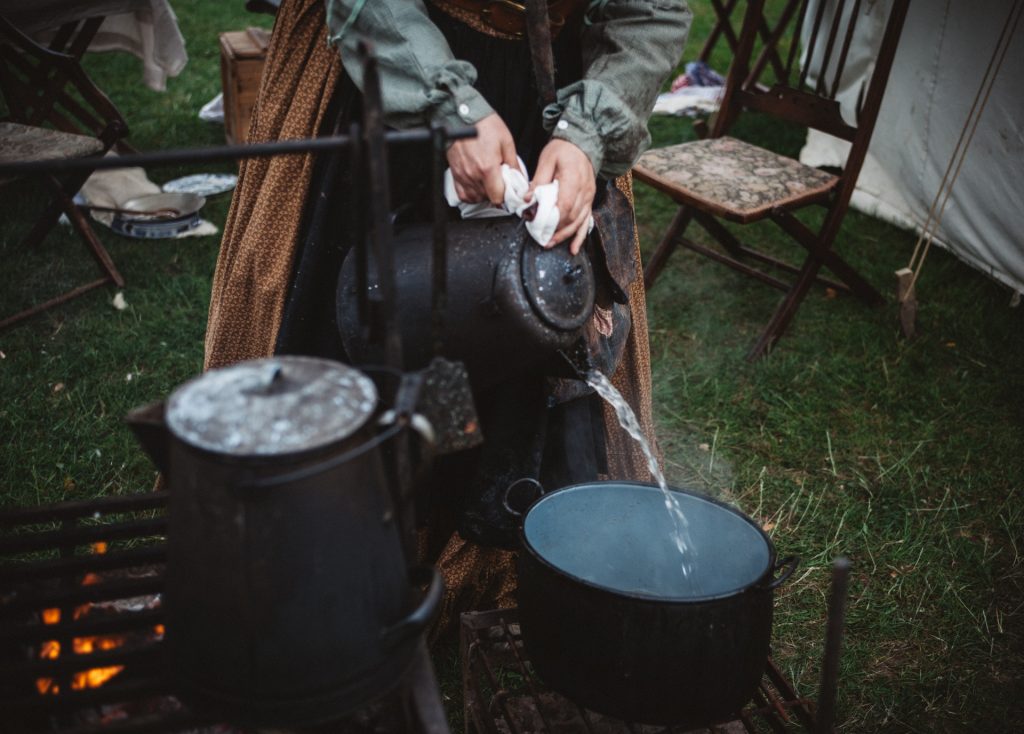 Looking for a backpacking stove you can really rely on when you're out camping, climbing, or fishing? Then look no further than the Triton.
Offering a total of twenty-two thousand BTUs, the Triton two-burner backpacking stove features a large cooking area and easily adjustable controls.  This is a very well-rounded stove that's offered at a reasonable price. It's not loaded with any fancy features like higher priced backpacking stoves, but it can definitely get the job done, and it's a stove that you'll genuinely enjoy cooking with.
Coleman is a name many backpackers and campers recognize, and they've been one of the leading brands in the industry for decades. They're known for their top-notch camping gear and accessories, which is why we were excited to take a closer look at the Triton, one of their most popular backpacking stoves, and a model that has a lot to offer in terms of power and efficiency.
Overview and Features
This is a solid stove that's offered at a decent price. It ignites with ease, simmers well, and is really easy to care for.
This stove can boil a quart of water in about three minutes, which is pretty decent, considering each burner only operates with eleven thousand BTUs. However, in cooler weather, it can take almost twice as long.
The flames can be difficult to see when the burner is turned down low, which can make it easy to accidentally forget to switch the burner off. The knobs also have a three hundred and sixty-degree rotation, but it will only take small quarter turns to adjust the heat level. Despite the stove's lower BTUs, it does seem to be able to cook at a surprisingly faster speed than we were expecting.
If you want to cook for more than five people, then this probably isn't the stove for you. The space on the stovetop is a bit limited, with about two inches less width compared to some models in this price range. However, it's one of the only backpacking stoves on the market that features adjustable windscreens. All other models that are equipped with windscreens will just fold down, but with this model, you'll find small connectors that easily fit into holes located on the side of the stove. This innovative design allows you to easily adjust each side of the windscreens, which is a great feature if your goal is to squeeze a couple of bigger pans onto the burners. But because each burner is only eleven thousand BTUs, expect slower cooking times.
Setup and Maintenance
Setup time is fast and simple. On the side of the stove is a small recess which is where the propane adapter rests. This design prevents the adapter from sliding around.
In terms of maintenance, the process is pretty straightforward. To clean, just lift out the cooking grate to access the drip tray and clean the surface of the stove.
Wind Protection
Despite the highly adjustable windscreen, this stove does struggle with wind resistance. Considering the BTUs, it's not surprising that the stove's performance is less than ideal in windy conditions, but this is pretty common with most backpacking stoves.
Portability
Compact, this stove comes in at just twenty-one by twelve, but four inches when packed down. This is a few inches smaller than other models in this price range.
Why You'll Love this Top Backpacking Stove
The Triton is a great buy if you need to cook for a moderately large group of people. It's the perfect stove to keep in the home for use during an emergency, but it also excels out on the trail. It's definitely a camping stove you can depend on. While it can struggle to boil water quickly in windy conditions, it still performs above average.
This is a reliable stove that performs well in a variety of areas. If you're an avid camper, backpacker, or hiker, then you'll find that this stove is one that you can rely on in a wide range of weather conditions. Despite its compact size, it's surprisingly powerful.
However, a major deal breaker for some hikers can be the stove's weight, which comes in at ten pounds.
Pros
The compact size makes it more travel friendly.
Very easy to clean and maintain
The adjustable windscreens make it easier to cook in windy conditions
Reasonably priced
Perfect for cooking for larger groups of people.
Cons
Smaller than average cooking space compared to other models in this price range.
This stove weighs in at ten pounds, which may be a deal breaker if you're looking for a lightweight stove to take on your next backpacking trip.
It can take longer to boil water considering the lower BTUs per burner
The burner knob design can make it easy to forget to switch the burner off.
If you're looking for a lighter backpacking stove, take a look at the Coleman Butane Instastart Backpacking Stove.
Coleman Triton 2 Burner Propane Stove Conclusion and Rating
Outdoors Habit.com Product Rating: (4/5)
Coleman is a company that's made a name for itself over the years, producing solid, reliable products that have a reputation for durability and quality, and their latest backpacking stove is no exception. While there are certainly better, more expensive models out there, we felt that the Triton really stands out for all the right reasons. This stove is a great buy if you're on a tight budget. It's also a great choice if you need to cook for larger groups of people.
It's not the lightest camping stove on the market, but this is often the price you have to pay if you need a camp stove that can cook for more people.
This is the best backpacking stove if you're looking for a model that's easy to clean, store, and use.  It features a large cooking surface to work with, so you can easily squeeze in a couple of large pots on the burners for bigger meals, and it's reasonably priced. While it does tend to struggle to boil water as quickly as some competing models, for the price, this stove is a total steal. We gave this model a rating of four out of five stars.
Check Price
Summary
Reviewer
Review Date
Reviewed Item
Coleman Triton 2 Burner Propane Stove
Author Rating