OutdoorsHabit.com is a participant in the Amazon Services LLC Associates Program, an affiliate advertising program designed to provide a means for sites to earn advertising fees by advertising and linking to Amazon.com<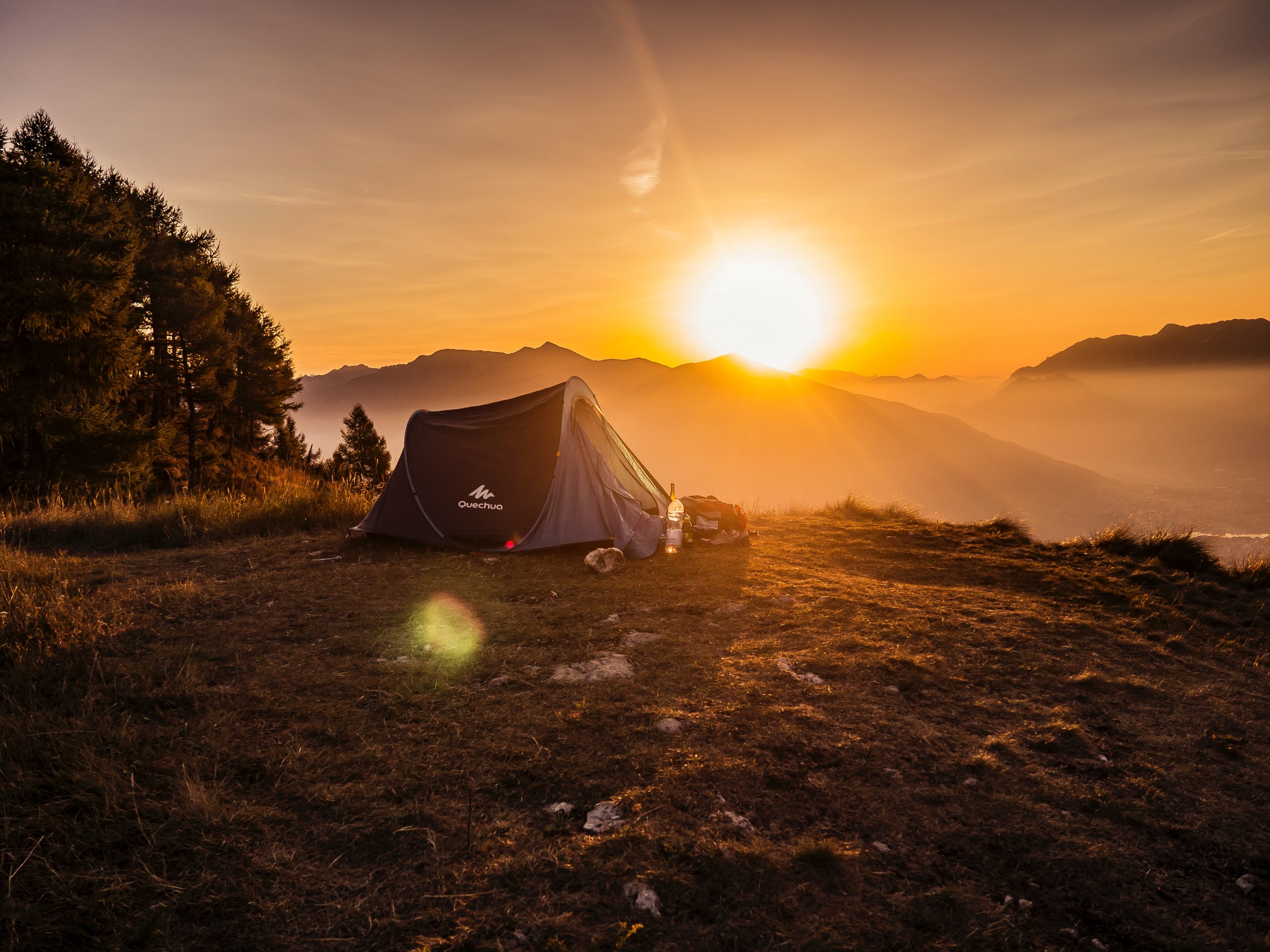 While camping, it's crucial to make sure you have all the equipment needed to face the wilderness. Staying out of the comfort of your house for days is a challenge. A comfortable and enduring sleeping mattress is indispensable.
The Lightspeed Outdoors 2 Person camping mattress is one of the most known. It's famous for being lightweight, firm, durable and comfortable. In this article, we'll discover this mattress's features, what makes it comfortable, and how to set it up. We shall also shed light on some of its downsides.
Read on to find more!
Overview and Features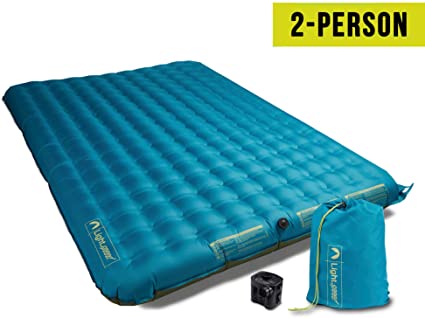 The Lightspeed Outdoors mattress is a 2-person air bed mattress that's versatile and suitable for outdoor activities like camping. It's also suitable for indoor usage at your home for you or your guests. It's comfortable, thanks to its stabilizing system, puncture resistance, and lasting firmness.
What makes this mattress efficient is that it comes with a two-way built-in valve, a battery-operated pump, and a packing bag. It's also very lightweight, which makes setting up effortless. A feature you'd appreciate when you're already outdoors and dealing with the other hassles of camping.
Comfort
This Lightspeed Outdoors 2-person mattress has a stabilizing system that distributes weight evenly. The stabilizers connect the top and the bottom of the mattress which makes the surface firm and supporting for better sleep quality.
This feature also makes it suitable for 2 people to sleep on without one side lowering or getting stretched. The weight distribution prevents any bouncy feeling while sleeping and doesn't force both people to sleep in the center for balance.
The mattress firmness can be adjusted upon your own sleeping preferences. When using the air pump, you get to fill it with air only as much as you need. This allows you to make it as comfortable as you prefer, so you can adjust it to be a soft or a very firm mattress. When using for several days in a row you can adjust the firmness just by pumping some air now and then.
The mattress is also puncture-resistant, which means it isn't prone to leak and it's unlikely to lose its pumped air overnight. The firmness of the mattress lasts your whole sleeping time. This puncture-resistance feature also adds to the mattress durability in the long-term.
Design
The Lightspeed Outdoors mattress is designed to hold 2 people of average weight. It weighs 6 pounds (2.7 Kg)  with dimensions of 80.1×55.1×7.1 inches (L×W×H) (200.7×139.7×15.9 cm) when inflated.
The mattress has a tufted comfortable and supportive surface. Made of polyester, the surface might feel slippery for some people. However, it doesn't have annoying plastic odors. Lightspeed Outdoors air bed mattress comes in aqua, green, light blue, and other different colors.
Material
The Lightspeed Outdoors 2-person mattress is made of TPU (thermoplastic polyurethane).
TPU gives the mattress its durability and resistance to abrasion and scratching. It's resilient to oils, grease, and other solvents. Besides, it can endure different temperatures. Both of these qualities make it very suitable for challenging camp environments.
TPU is free of phthalate and PVC, which makes the mattress an environment-friendly product.
However, the thermoplastic polyurethane has a low temperature and doesn't transfer heat, which makes the surface cold. This feature can make the mattress suitable for summer camping more than winter and chilly nights. Still, some bed sheets and covers can fix this issue easily.
Setting Up
Lightspeed Outdoors mattress has a built-in valve with 2 ports and an air pump that operates with 4 "D" batteries (the batteries don't come with the product though). One port of the valve is for deflating and inflating the mattress while the other is a one-way port that lets the air in but prevents it from coming out. This helps you avoid any leaks and keeps the firmness of the mattress.
Setting up this mattress doesn't take much time or effort. It's likely to take from 4 to 5 minutes to hold the pump till it fills the mattress. When doing so, it's important to close the valve very well to prevent any leakage.
The mattress comes with a packing bag so you can easily carry it after deflating when done. One of the mattress perks as well is that it can fit into camping cars with ease, which improves the comfort of your camping experience.
What Is Lightspeed Outdoors 2-person Good For?
If you're an outdoor person who loves to have an overall good camping experience, this mattress will be very convenient. It's also useful for people who prefer air bed mattresses for daily indoor usage. In both cases, this Lightspeed Outdoor mattress will serve well.
The mattress features make it effective outdoors and indoors. They also make it a long-term investment that shall be helpful and provide comfort for long.
Pros
Comes at an affordable price.
Can be set up easily and fast.
Portable and easy to pack.
PVC-free and environment-friendly.
Puncture-resistant.
After inflating, it doesn't leak air while sleeping.
Stays firm for long.
A Durable mattress that takes 2 people.
The manufacturing company gives a one-year warranty.
Has a stabilizing system for weight distribution.
Cons
The mattress doesn't transfer much heat, so it's more suitable for summer camping.
Its polyester surface may give a slippery feeling.
Air bed mattresses aren't as comfortable as foam mattresses.
Lightspeed Outdoors Mattress Conclusion and Rating
Outdoors Habit.com Product Rating: (5/5)
The Lightspeed outdoors 2-person air bed mattress provides three main features, durability, firmness, and comfort. It doesn't get stretched or deflated overnight. It also serves indoors and outdoors usage. The mattress is very efficient in its stabilizing system, built-in valve, pump, and packing bag.
It's made of environment-friendly materials that also protect it from scratching and abrasion and make it suitable to use in any camping environment. All these features combined make the Lightspeed Outdoors 2-person mattress one of the best mattresses for camping in the market.
Check Price