OutdoorsHabit.com is a participant in the Amazon Services LLC Associates Program, an affiliate advertising program designed to provide a means for sites to earn advertising fees by advertising and linking to Amazon.com<
Daunting, isn't it?. The thought of packing everything you need for an extended period into a bag or two and hitting the road. But fear not! Starting backpacking is easier than you think and can be a great way to see the world on a budget. Here are some tips to help make your first-time backpacking a success.
What to pack for a successful backpacking trip?
There are a few essential items that you will need for a successful backpacking trip. Here is a list of the most essential backpacking gear:
A good backpack will make your trip more comfortable and enjoyable

A tent will protect you from the elements and give you a place to sleep at night

A sleeping bag will keep you warm at night

A lightweight backpacking stove will allow you to cook food and boil water

Make sure to pack enough food to last you for the entire trip

Make sure to bring plenty of What to stay hydrated

A first aid kit is always a good idea in case of any accidents

Make sure to pack clothes that are appropriate for the weather and terrain

Good shoes are essential for a successful backpacking trip

A map will help you navigate your way through the wilderness

A compass can be very helpful if you get lost

A flashlight will help you see at night and in dark places

Sleeping bags and backpacking meals

Matches can be used to start a fire

A knife can be used for many things such as preparing food, carving, etc.
Choose a backpack for a backpacking trip
Anyone who has ever been on a backpacking trip knows that choosing the right backpack is essential. There are a few things to consider when making your selection.
First, you need to decide how much capacity you need. This will be determined by the length of your trip and the amount of gear you need to bring. Second, you need to choose a backpack that is comfortable to wear.
It should have adjustable straps and a padded back panel. Third, you should select a durable backpack that can withstand harsh conditions.
Finally, you need to ensure that the backpack you choose has all the features you need, such as compartments for storing your gear and a built-in rain cover. By keeping these factors in mind, you can be sure to choose the perfect backpack for your next overnight backpacking trip.
Food and water needed for a backpacking trip
One of the most important things to consider when planning a backpacking trip is what food and water you will need.
Depending on the length of your trip and the location, you may need to bring all of your food and water with you, or you may be able to find some along the way. Either way, it is important to plan ahead and have everything you need to stay nourished and hydrated during your adventure.
It is essential to choose lightweight and easy-to-transport items when it comes to food. Non-perishable items like granola bars, dried fruit, and peanut butter are good options.
You will also want to make sure you have enough food to last the entire trip. A good rule of thumb is to pack 1.5 pounds of food per day.
As for water, you will need to pack enough for each person to drink at least 2 liters per day. If you are hiking in a particularly hot or dry climate, you may need even more. Again, it is better to err on caution when packing water.
Once you have all your food and water sorted, the rest of your packing list should fall into place relatively easily. This is the essential backpacking gear you will need for beginner backpacking trips.
How to choose a route and plan your journey?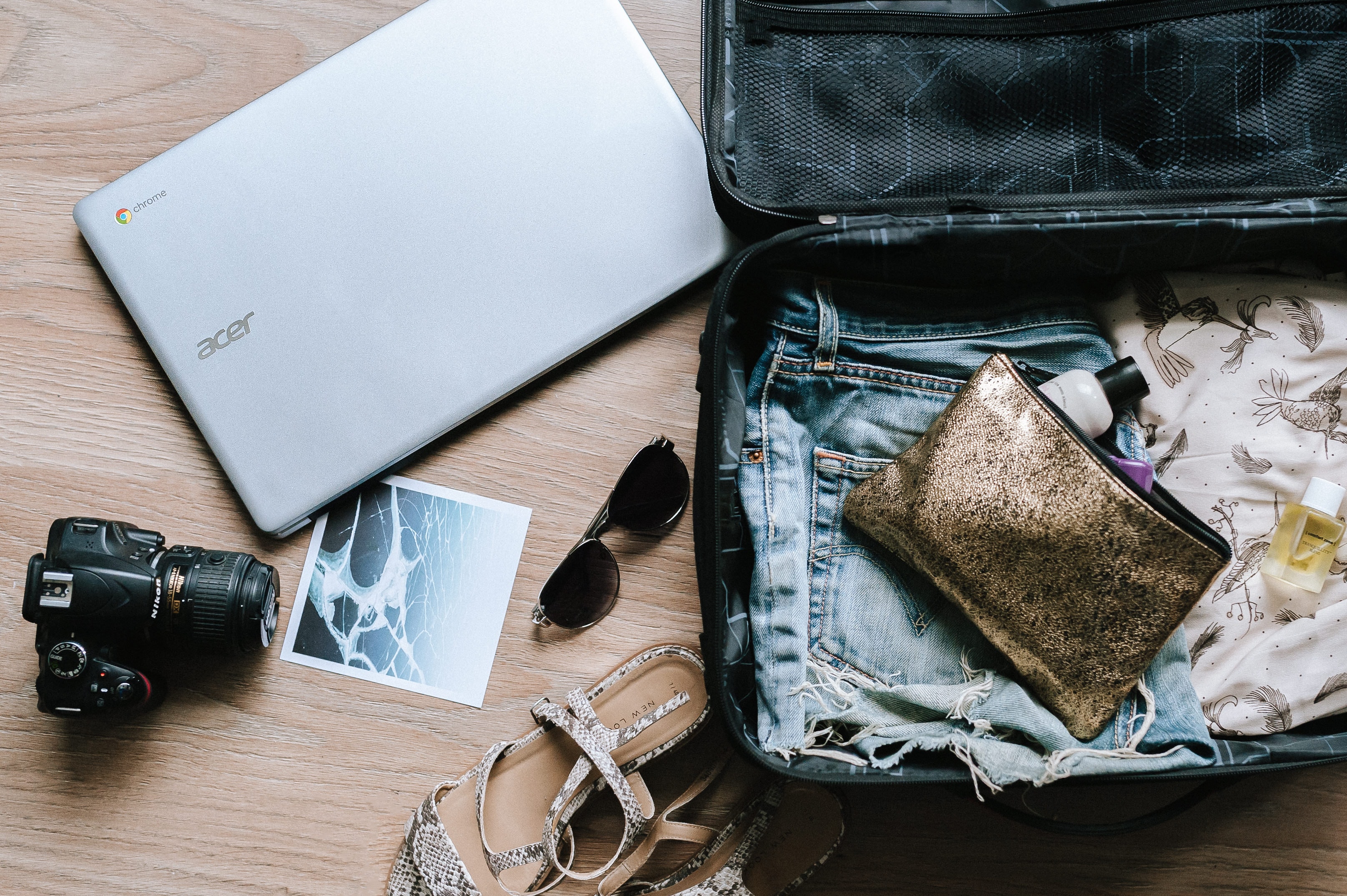 Before setting off on any journey, it's essential to take some time to plan your route. This helps ensure that you'll end up at your destination safely and on time. There are a few things to keep in mind when choosing a route.
First, consider the purpose of your journey. Are you looking for the quickest way to get there, or are you hoping to take in some scenic views? Second, check the weather forecast and road conditions. If it's going to be a clear day, you may want to take the most direct route.
However, if there's bad weather expected, it may be better to choose a route that avoids any dangerous roads. Finally, think about how long you're willing to travel. If you're tight on time, it's probably best to stick to major highways. Backpacking for beginners can be tricky, so you can use the following options to choose the right spot whether they are national parks or an Appalachian Trail.
Many online tools can help you plan your journeys, such as Google Maps or MapQuest.

Websites like Lonely Planet or Rough Guides often have good information on routes and places to visit.

If you know someone who has traveled the route you plan to take, ask for their advice.

A professional travel agent can help you plan your journey and ensure you don't miss anything important.
What if something goes wrong?
When you're out in the wilderness, it's essential to be prepared for anything. But sometimes, despite our best efforts, things can still go wrong. If you find yourself in a situation where you're lost or injured, there are some essential steps that you can take to improve your chances of being seen and getting help.
First, stay calm and think clearly. Remember that panicking will only make the situation worse. Next, assess your surroundings and determine where you are and how you can get back to the trailhead.
If possible, mark your location so that rescuers can find you more easily. Finally, stay put and wait for help to arrive.
Going alone in the wilderness is always a risky proposition, so it's best to wait for professionals to come and assist you. By following these simple steps, you can improve your survival in an emergency in the wilderness. These are the backpacking basics to get the maximum results.
Stay safe and healthy while backpacking
When backpacking, it is crucial to take some precautions to stay safe and healthy. Here are some tips:
Stay hydrated and pack plenty of water and snacks. Backpacking food storage is one of the essential aspects of backcountry camping

Wear sunscreen, hats, and sunglasses to protect yourself from the sun.

Check weather conditions before heading out on a hike, and be prepared for changes in the weather.

Tell someone where you are going and when you plan to return.

Pack a first-aid kit in case of emergency.

Learn some basic survival skills before you go backpacking.

Be aware of the signs of altitude sickness and take breaks often when hiking at high altitudes.

Listen to your body and take breaks when you need to. Rest when you are tired, and don't push yourself too hard.
Tips for making the most of your backpacking experience
The first backpacking trips are always adventurous if you have the right backpacking skills. Here are some skills for beginner backpackers:
Do your research
Before you set off on your backpacking adventure, it is essential to do your research and plan. Decide where you want to go and what you want to see, and then map out your route. Make sure to factor in rest stops, and be realistic about how much ground you can cover in a day.
Pack light
One of the essential tips for backpacking is to pack light. You will be carrying all of your belongings on your back, so it is important only to bring what you need. Choose versatile clothing that can be mixed and matched, and consider investing in a good quality backpack that is comfortable to wear.
Be prepared for the elements.
When you are out in the wilderness, you will be exposed to weather conditions. Pack appropriate clothing and gear for whatever Mother Nature might throw your way. Be prepared for hot and cold weather, and pack rain gear just in case.
Don't forget the basics.
In addition to clothes and gear, you will need some other essentials for your backpacking trip. Make sure to pack a first-aid kit, a flashlight, a map, and a fire starter. These items will come in handy if you find yourself in an emergency.
Be aware of your surrounding.
When you are out in the backcountry, it is essential to be aware of your surroundings. Pay attention to the terrain, and watch out for potential hazards like cliffs, river crossings, and wildlife. If you are ever in doubt, it is always better to err on caution.
Leave no trace
It is important to practice Leave No Trace principles when you are backpacking. This means being conscious of your impact on the environment and taking steps to minimize it. Pack out all of your trash, and be careful not to damage vegetation or disturb wildlife.
Be flexible
One of the best things about backpacking is that it allows for a lot of flexibility. Your itinerary does not have to be set in stone – if you find a place you like, feel free to stay for a few extra days.
And if you get off track, don't be afraid to ask for directions. The key is to go with the flow and enjoy the journey.
Be patient
Backpacking can sometimes be challenging, and things may not always go according to plan. It is important to be patient and go at your own pace.
If you get frustrated, take a deep breath and remind yourself that you are on an adventure.
Talk to other backpackers.
One of the best ways to learn about backpacking is to talk to other people who have done it before.
Ask them for tips, advice, and stories about their adventures. You can also find a wealth of information online, including websites and forums dedicated to backpacking.
Have fun
Above all else, remember to have fun on your backpacking trip! This is supposed to be an enjoyable experience, so make sure to take the time to appreciate your surroundings and savor the journey. That's what backpacking is all about.
How much does it cost to start backpacking?
The cost of backpacking can vary depending on several factors, such as the type of gear you need, the length of your trip, and your destination. However, a few basic costs are necessary for any backpacking trip.
First, you will need to purchase a backpack.
Backpacks can range from $50 to $200, depending on their size and features. Second, you will need to invest in some quality hiking boots or shoes. Prices for hiking boots can start at around $100.
Finally, you will need to purchase some essential camping gear, including a tent, sleeping bag, and cookstove.
The cost of this gear can vary widely, but you can expect to spend at least $200 on the basics. You will know it better after the first few backpacking trips.
How long should your first backpacking trip be?
There is no single answer to how long a backpacking trip should be. The length of your trip will depend on several factors, including your level of experience, the difficulty of the trail, and the weather conditions.
If you are an experienced backpacker, you may be able to cover more ground in a shorter period.
However, if you are new to backpacking, it is essential to start with a shorter trip and gradually increase the length of your hikes.
 In addition, more challenging trails will take longer to complete than those that are relatively flat and easy.
Finally, inclement weather can also impact the length of your trip, as you may need to stop more often for breaks or to set up camp.
Ultimately, the best way to determine the length of your backpacking trip is to consult with an experienced guide or outfitter. They can help you assess your abilities and choose an appropriate trail for your experience level.
How do beginners train for backpacking?
Backpacking is an increasingly popular way to explore the great outdoors, but it requires preparation before hitting the trail.
The best way to start training for beginners is by gradually increasing the amount of weight you carry on your back.
Try carrying a backpack with some extra clothes and a few snacks on short day hikes if you're just starting.
Once you get used to the extra weight, you can add more items to your pack. In addition to slowly increasing the weight of your backpack, it's also essential to focus on building up your endurance.
Hiking uphill can be incredibly challenging, so try incorporating some hill training into your workouts.
Finally, give your body plenty of time to adjust to the demands of backpacking by starting with shorter hikes and gradually working up to longer trips.
 By following these tips, you'll be well on your way to enjoying all that backpacking solo has to offer.
Conclusion
If you are looking for an outdoor adventure, backpacking may be the perfect option. To get started, do your research and find an appropriate trail for your skill level. Pack the right gear and supplies, and always remember to practice safety precautions while hiking. With these tips in mind, you are ready to hit the trails and embark on an unforgettable journey.
Also, read our guide:
The Best Travel Daypack for Your Trip Reviewed and Compared: Ultimate Guide 2022 Edition